The AR-15 inspires passionate devotion as one of the most popular rifle platforms today. But for AR enthusiasts, one key question remains - what is the ideal scope to maximize the gun's capabilities?
Finding the perfect scope for your AR-15 can leave even seasoned shooters scratching their heads. We all want optics that make our rifles insanely accurate. But we're also budget-focused and need something matching how we actually use our ARs - not just what the marketing hype suggests.
In this comprehensive guide, I will recommend cost-effective red dot sights and rifle scopes tailored specifically for the AR-15 platform, based on evaluating real-world use cases and taking advantage of the rifle's capabilities.
Ready to find the perfect scope and take your AR to the next level? Read on.
 (Reading Time: 2-4Minutes)
Red Dot Sight VS. Rifle Scope: Which one is the Best for AR-15?
Red Dot Sight for Close Range Shooting and Home Defense
Constructed from aluminum and polymer, AR-15 is relatively lightweight rifle, typically between 6-8 lbs unloaded. This lightweight design makes AR-15 easy to maneuver and shoulder quickly.
Additionally, the .223/5.56mm cartridges utilized in most AR-15s have milder recoil forces than larger rifle rounds. The low recoil of these small-caliber but high-velocity rounds allows for excellent controllability during rapid fire scenarios. Less recoil kick helps maintain accuracy in sustained shooting.
With its light weight and minimal recoil, the AR-15 offers great flexibility and clear advantages for close-range home defense applications. This advantageous feature perfectly complements the benefits provided by red dot scopes, resulting in a powerful combination that enhances their overall effectiveness.
Here, we highly recommend the Pinty 1x40 Reflex Red Dot Sight to match AR-15's portability and flexibility: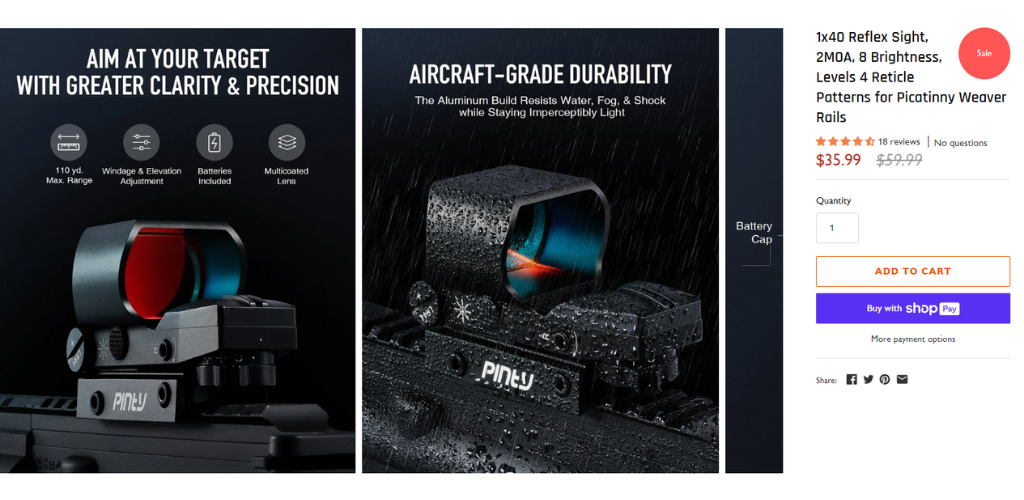 Small size and weighs 144 grams. It doesn't weigh down your AR-15.

Parallax-free. 

Irrespective of the shooter's eye position, this device ensures that the aiming point remains consistently on targe. Just look and shoot. During critical situations, the gun's speed can be enhanced for rapid response and increased efficiency.

No magnfication, meaning that you can keep both eyes open while firing.  The red dot scope could give you wilder field of view to better observe the situation around.
 Rifle Scope for
 Medium-to-long-range Shooting
AR-15 exhibits characteristics such as small caliber, high bullet velocity, and low recoil, making them relatively more accurate for medium-to-long-distance shooting. If you require shooting within these ranges, rifle scopes are the ideal choice. With fixed or variable magnification options, as well as elevation and windage adjustment capabilities, rifle scopes generally offer superior accuracy compared to red dot sights—particularly when the target is not within close proximity. Additionally, scopes with larger objectives (50mm) provide excellent low-light performance, enhancing your shooting confidence.
Here, we highly recommend the Pinty 3-9x42 Mil Dot Tactical Rifle Scope to enhance  AR-15's accuracy:
The 3-9x variable magnification range provides a versatile blend of CQB-style shooting at 3x with the option to reach out further at 9x. This suits the AR-15's capabilities.
The 42mm objective lens should allow sufficient light transmission for good visibility in low light conditions.
The green multi-coated lenses will provide a bright, crisp sight picture.
The mil-dot reticle would work well for ranging targets and holdover compensation.
The illuminated reticle could be beneficial for fast targeting and low light use.
 Conclusion
Choose the ideal rifle scope or red dot for your AR-15 based on your intended use. For close-range home defense, the Pinty 1x40 Reflex Red Dot Sight allows faster target acquisition and enhances the AR-15's maneuverability. For medium-to-long-range shooting, the  Pinty 3-9x42 Mil Dot Tactical Rifle Scope with magnification provides zoom for distant targets and mil-dot reticles for precise aiming reference, improving accuracy at longer range.
Thanks to the AR-15's modular design with Picatinny rails and mounting interfaces, you can even outfit your rifle with both a scope and red dot sight. This takes full advantage of the platform's expansive accessory capabilities. The red dot is ready for close quarters speed while the magnified variable power scope dialed in on distant targets. Determine the right optic setup by reflecting on your needs. The AR-15's customization enables tailoring optics to your exact shooting applications.