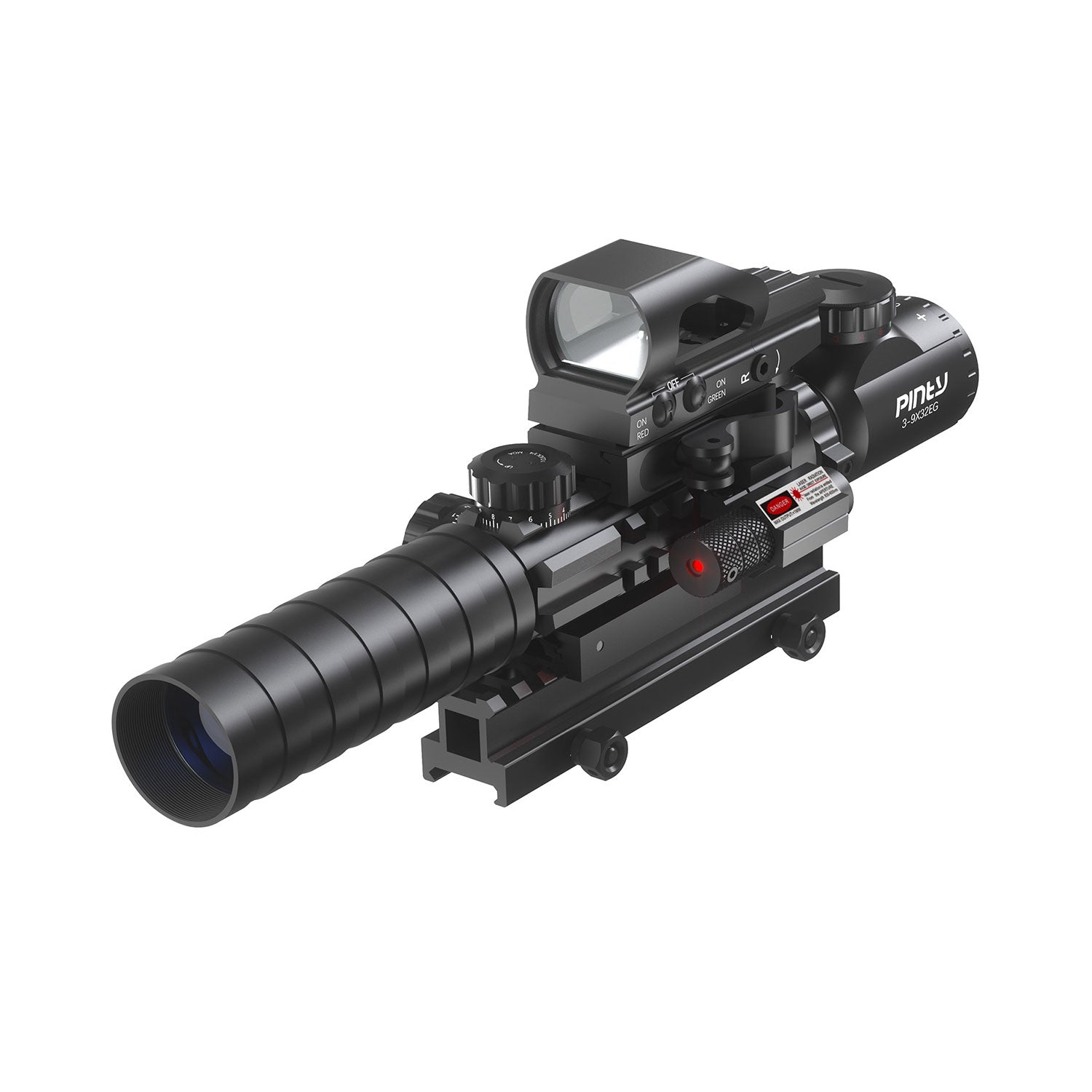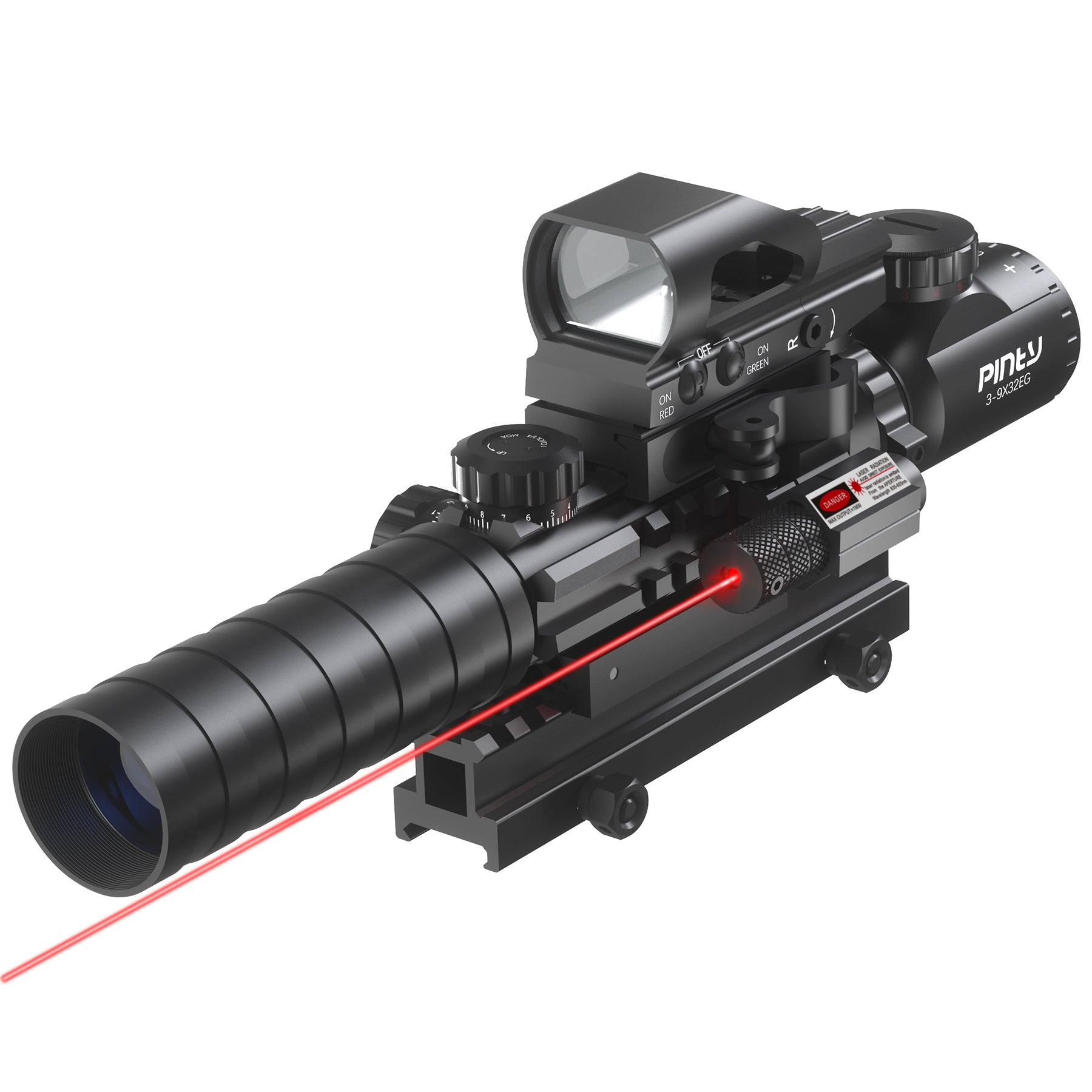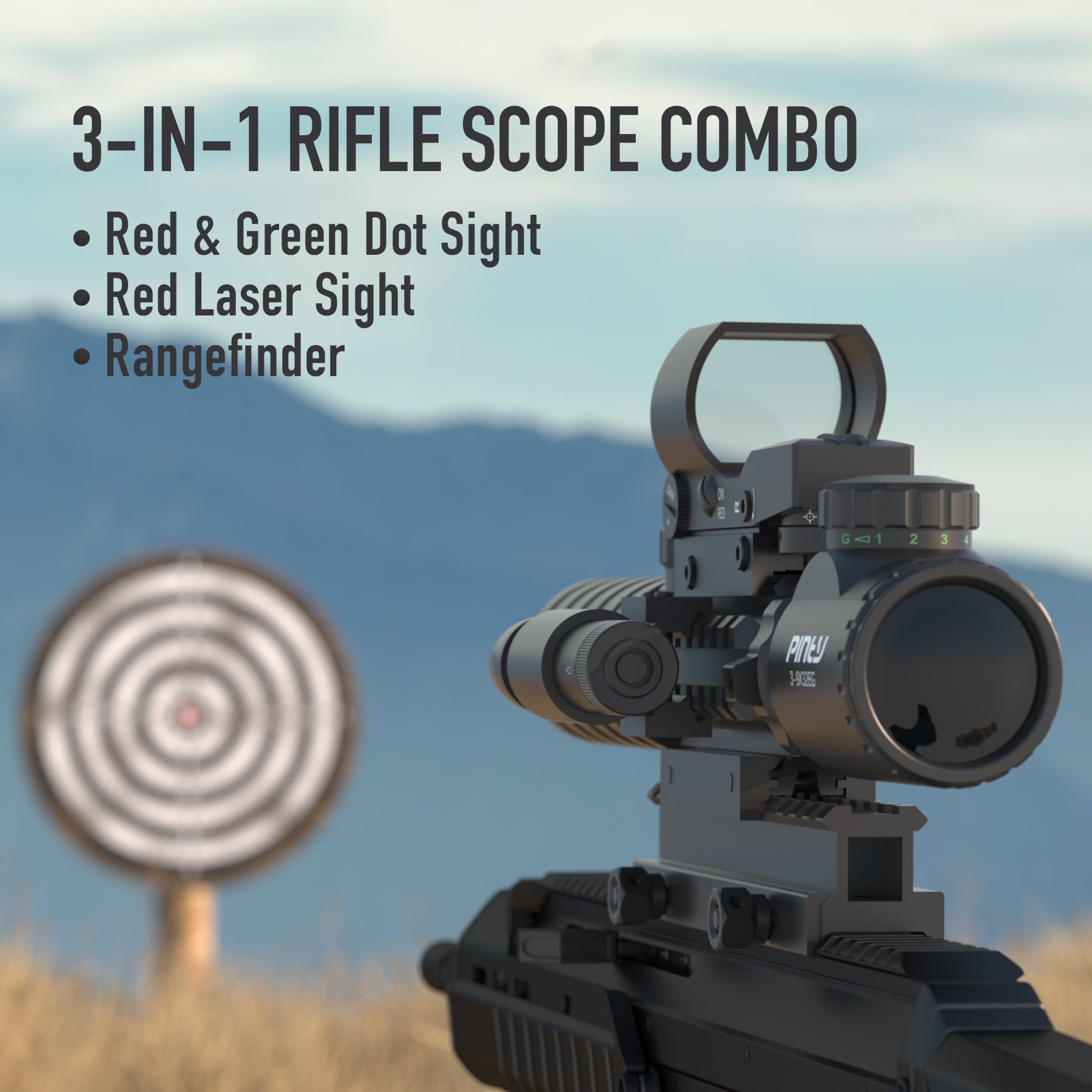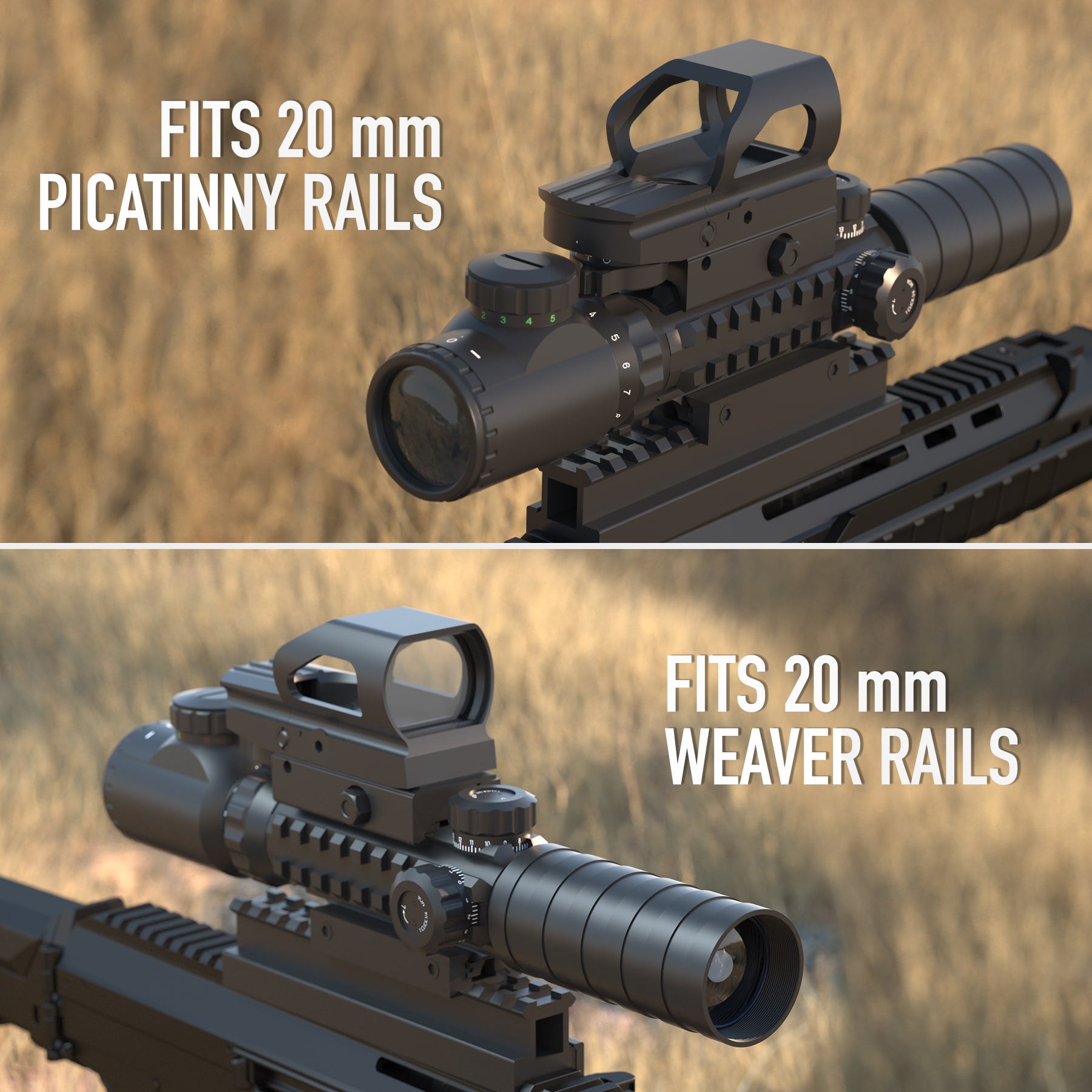 3-in-1 Rifle Scope Combo, 3-9*32mm Rangefinder Scope, Red&Green Dot Sight, Red Laser, 14 Slots Riser
Leaves warehouse in 2 Business Days
Note: Shipping may be impacted by carrier delays
Pinty 3-In-1 Rifle Scope Combo

Pinty's holographic red & green dot sight and red laser combo offer 5 levels of dual brightness adjustment, 4 reticle patterns, and easy windage & elevation adjustment. The 3–9× magnification allows you to zero in on your target with ease, while the scope's high-transmittance lenses are carefully ground and fully multicoated so you can enjoy the non-scratch performance and a clear field of view at all times. Quickly mounting onto your Picatinny or Weaver rail, this rifle scope combo is perfect for your next hunting trip!
Innovation is always our vision. Yet we have another goal in mind, and it has kept us marching forward. Nothing puts a bigger smile on us than knowing our customers are happy with our innovative products. In return, the last decade has seen a successful and rapidly expanding company.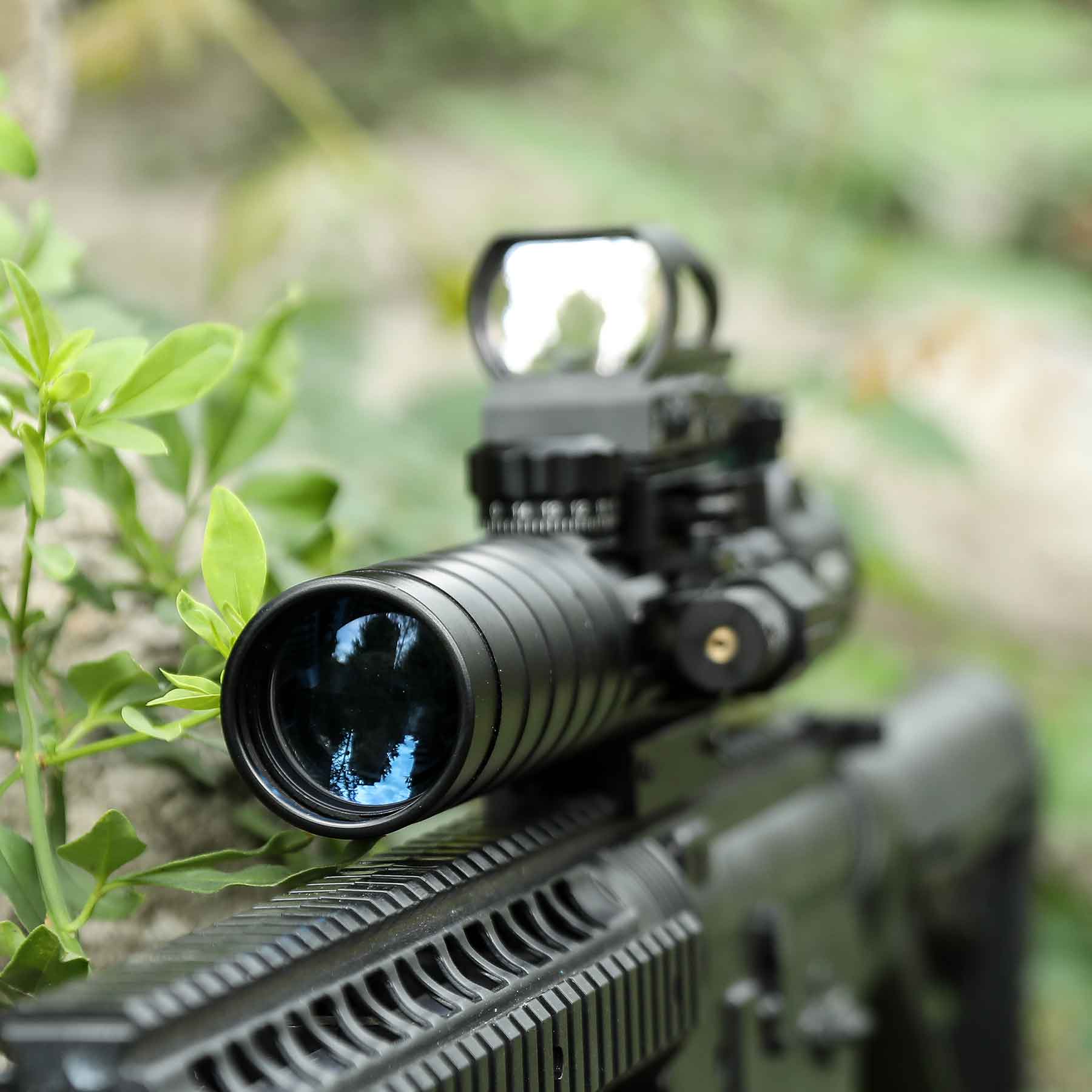 Magnified Hunting Accuracy
Achieve pinpoint precision at all ranges with 3-9x magnification and multi-coated optics.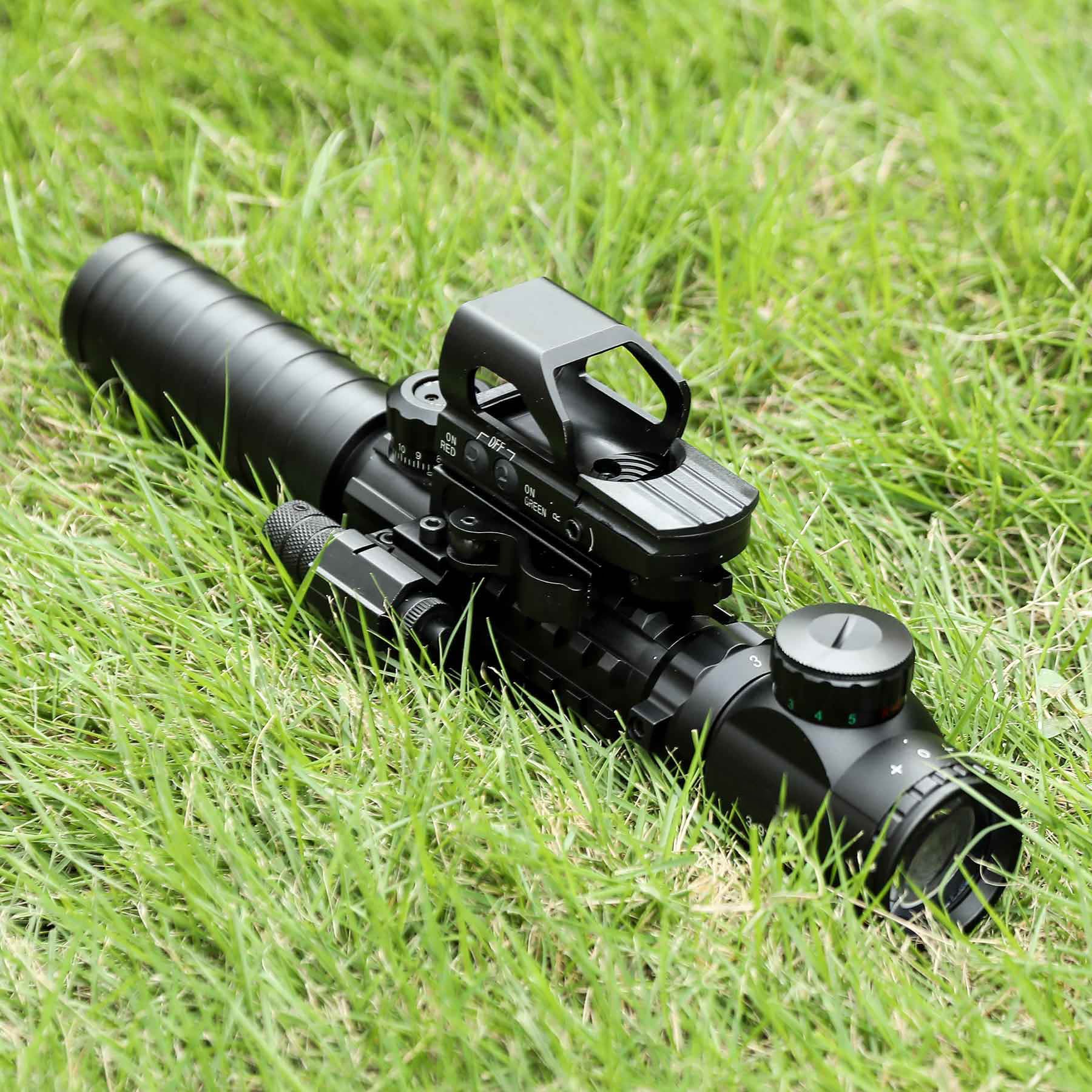 Illuminated Low Light Targeting
Unlimited brightness reflex sight and adjustable laser excel in dawn, dusk and nighttime conditions
Ol Glory of Scopes
I love this combo of scope, sight and laser. Honestly makes my gun look beautiful. Great product.
Accuracy and Clearness
I have to you this scope combo is a diamond you buy with this price. none of the scopes you see in stores can't compare with this even with double or triple the price of this. 25 meter target zeroing you see in the beginning the shots that are all over the place are without the zeroing. Started at 7 yards, was way off then I did 15 yards and most of the bullseye shots are from 15 yards within 30 seconds of zeroing. After that 25 yards I tries hitting the rear sights on the target as you see with black circles around them. All of them are less than an inch to the target. That is considering my hands were shaky a little bit.
Overall I'm pretty satisfied with this scope. And it held itself steady after 100 rounds.
Go ahead and buy it already.
Precision Rifle scope
I purchased this Pinty rifle scope for my daughters AR15 for plinking. We found it to be fairly accurate and durable. The scope itself has 3 Picatinny rails around its body and it also comes with a reflex sight and green dot laser. The adjustable green/red reflex reticle helps improve target acquisition either in dark or bright settings. The reflex sight is very reliable when in situations where the target is close, due to the very wide and clear view, you will be able to accurately hit moving targets. This may be convenient when trying to hit targets with speed. The strong laser sight is bright enough to be seen from afar. It is also visible during the day/night and in most weather conditions. The Pinty Rifle Scope is made of sturdy aluminum so the scope is lightweight making transportation/traveling much easier. I strongly recommend using this scope for rifles as it provides many advantages. The package and scope came with everything and in good quality.
Pretty decent setup
Overall, I like the scope. It's a little larger than I expected. I sighted it in and it was very accurate shooting at 50 yards. The scope seems to be pretty well made. The red dot is ok. With the included riser it sits a little high. I ended up using a different riser to get the desired length. The laser pointer is cool but I may just use it to mess with my cat instead of mounting it.
Definitely worth the money
I read so many laughs and bad and good reviews. I'm actually impressed for the money. I even bought a second one and threw it on my rugger 22 rifle