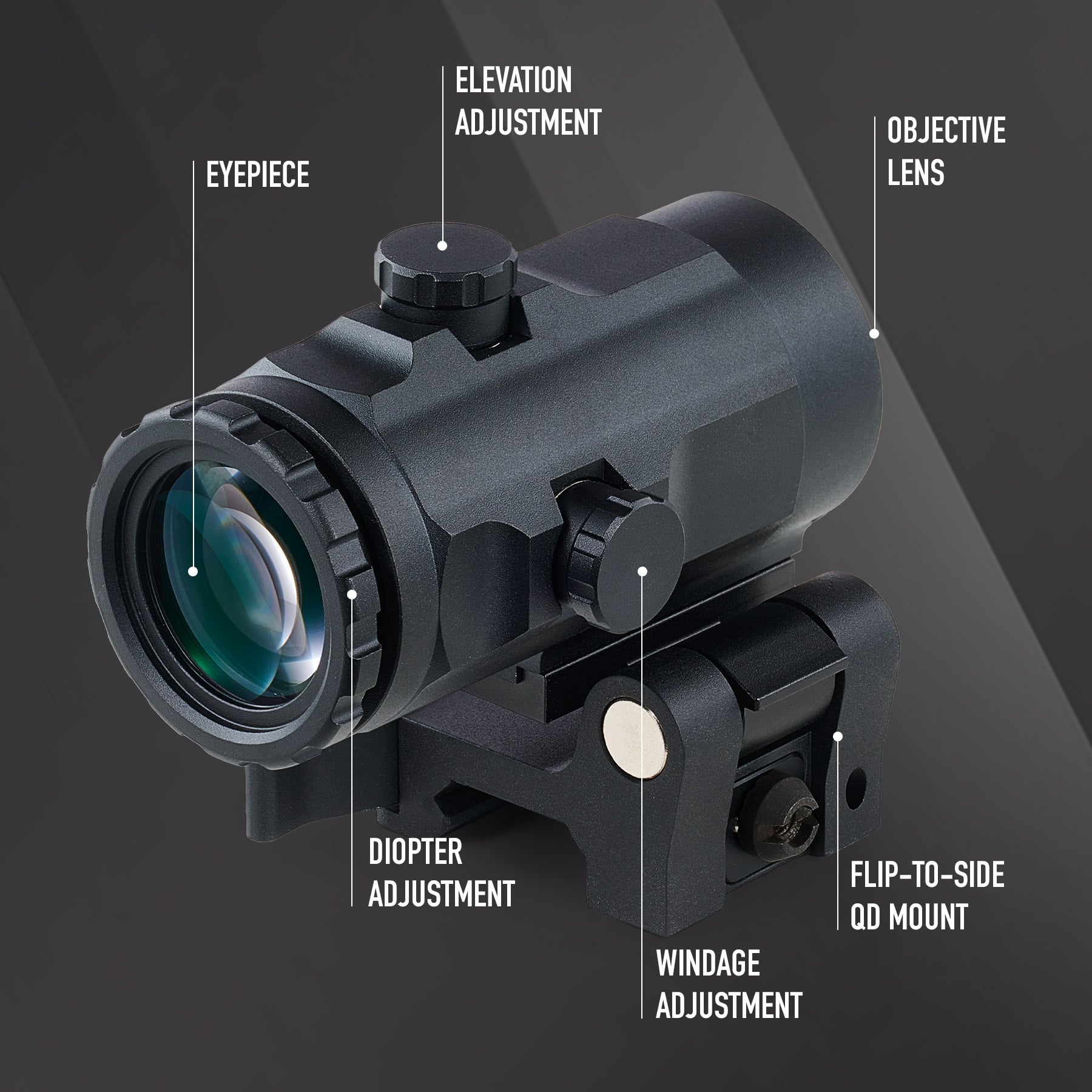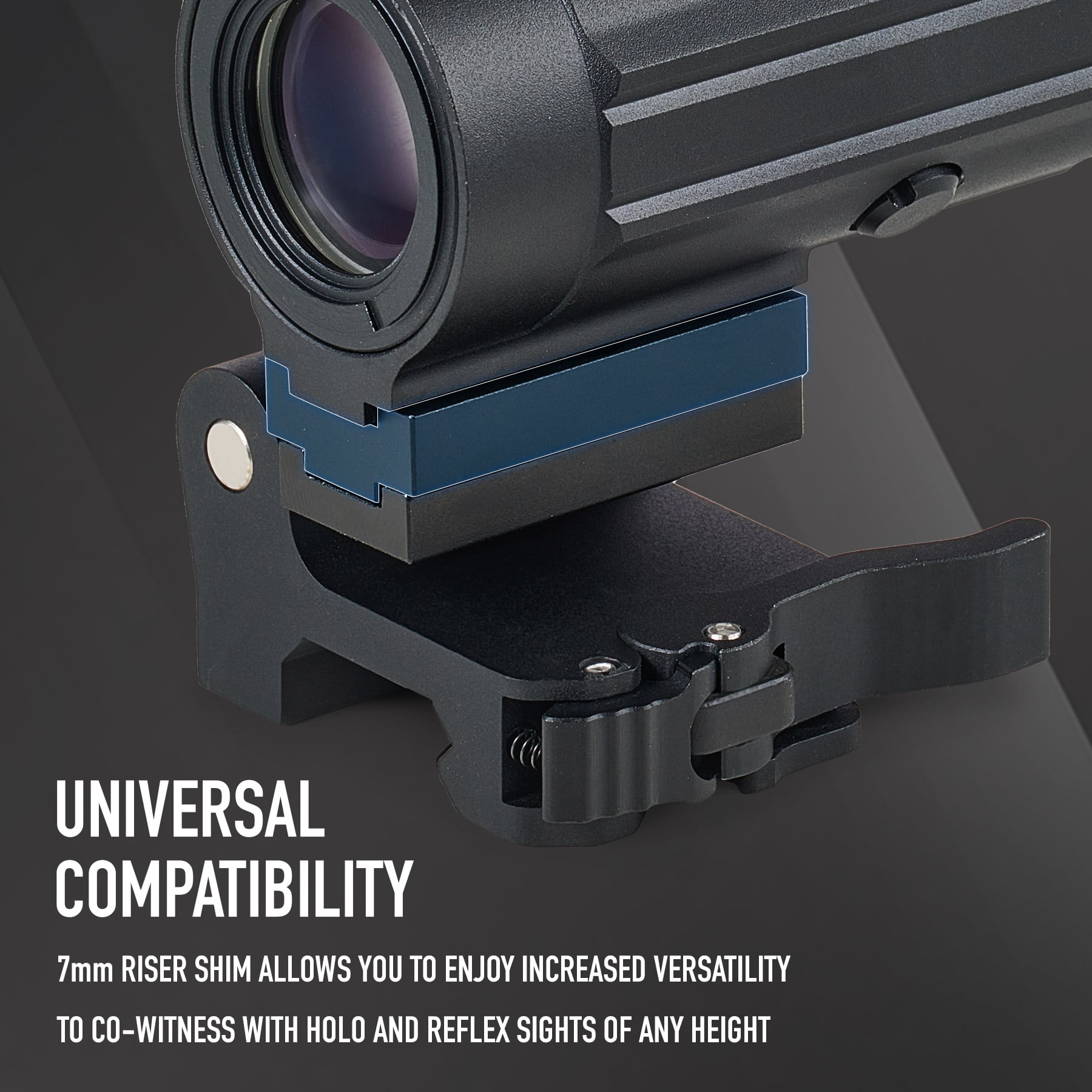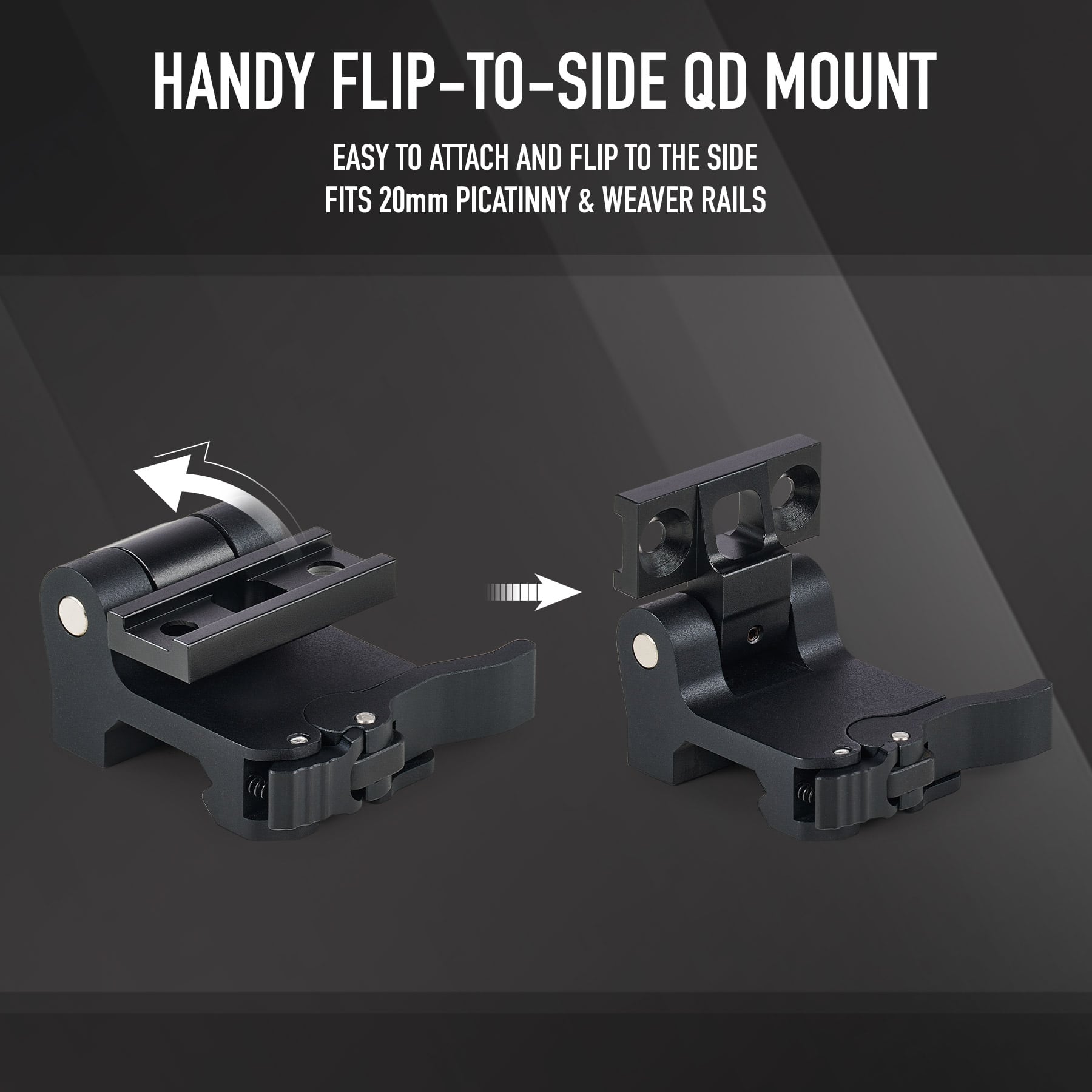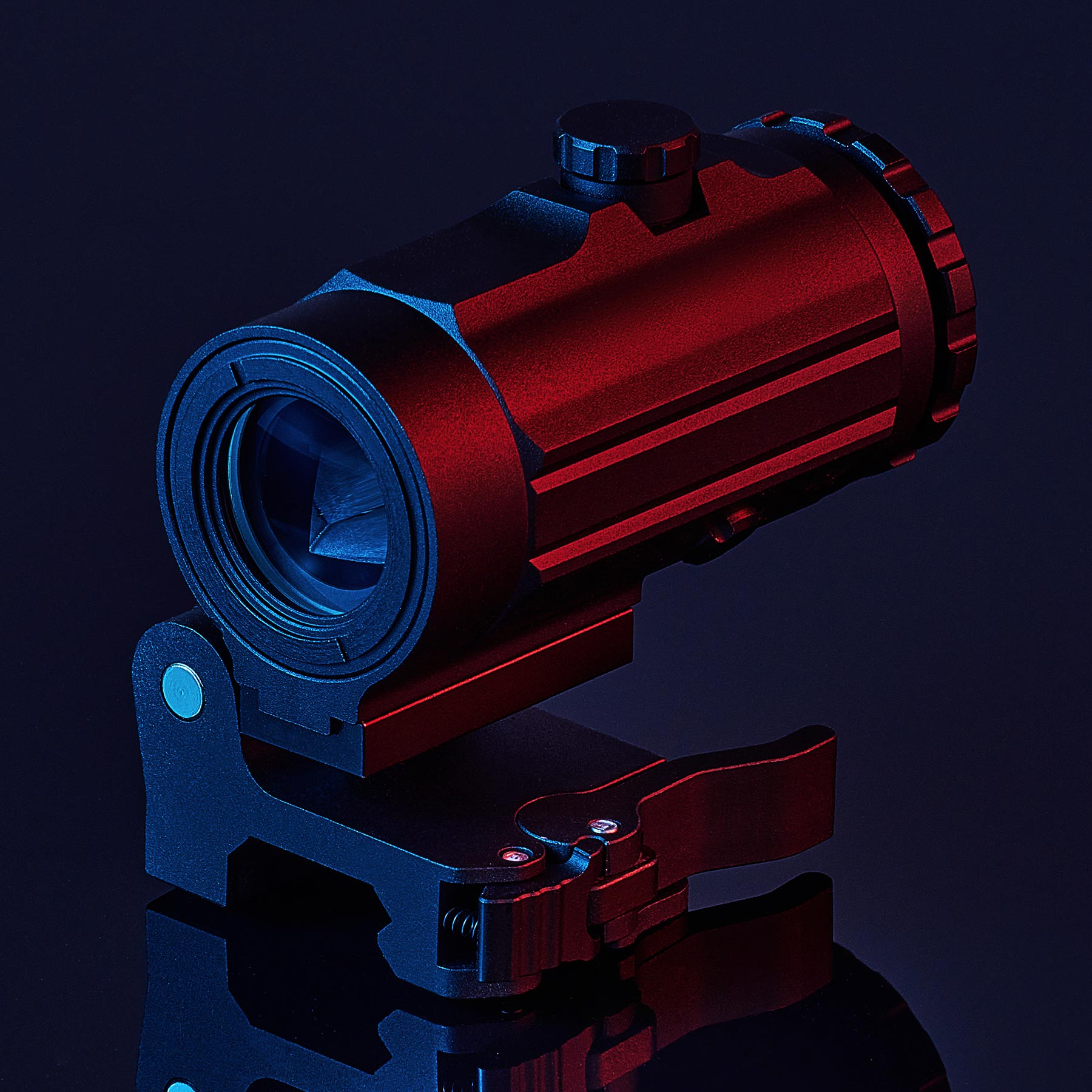 3x22 Reflex Sight Magnifier Gun Scope with Flip Mount for 20mm Picatinny Rails, Red Dot Magnifier with Flip to Side QD Mount
Leaves warehouse in 2 Business Days
Note: Shipping may be impacted by carrier delays
3x22 Reflex Sight Magnifier Gun Scope

Looking to enhance the non-magnified dot or holographic sight of your sporting rifle?
This 3x22 red dot magnifier is here to serve! Place this compact and dependable optics magnifier behind your red dot or reflex sight to instantly magnify your target 3 times.
With a comfortable 2.7-inch eye relief, the eyepiece provides a wide field of view of sharp and clear images, enabling quick target acquisition without eyestrain for mid to long-range shooting.
The knurled ring on the eyepiece offers convenient adjustment from -2 to +2 diopters, correcting your vision for a clear, focused view without glasses.
When you're done and have a closer-range target, the built-in flip-to-side mount offers maximum flexibility to move this monocular magnifier out of the way.
Our rifle sight accessory's anodized aluminum construction resists shock, wear, tear, and corrosion; the multicoated lenses let you enjoy nonscratch performance and a clear field of view at all times; and the simple windage and elevation adjustments will have you set up and ready to go in no time, with no tools needed.
Fitting any firearm with a standard 20mm Picatinny or Weaver rail, our red dot magnifier with quick-release flip mount is an indispensable addition to your standard red dot or reflex sights, working with long guns including rifles, carbines, shotguns, and more.
Whether you're looking for home defense or tactical training help, shooting fun, or hunting accessories, this red dot magnifier is your best choice to get more range out of your standard sights.
After easily installing our 00H5 3×22 magnifier behind your sight, use the straightforward windage and elevation adjustments to get zeroed in and ready your target in no time!
Our magnifier forms an absolute co-witness system with most holo sights and reflex sights thanks to its 38 mm center height, while an extra 7 mm riser shim is provided to align this magnifier with taller sights for better versatility.
 (Cooperation with Gunnr)
3x Magnification Power
Offers a fixed 3x magnified view for precise targeting at distance.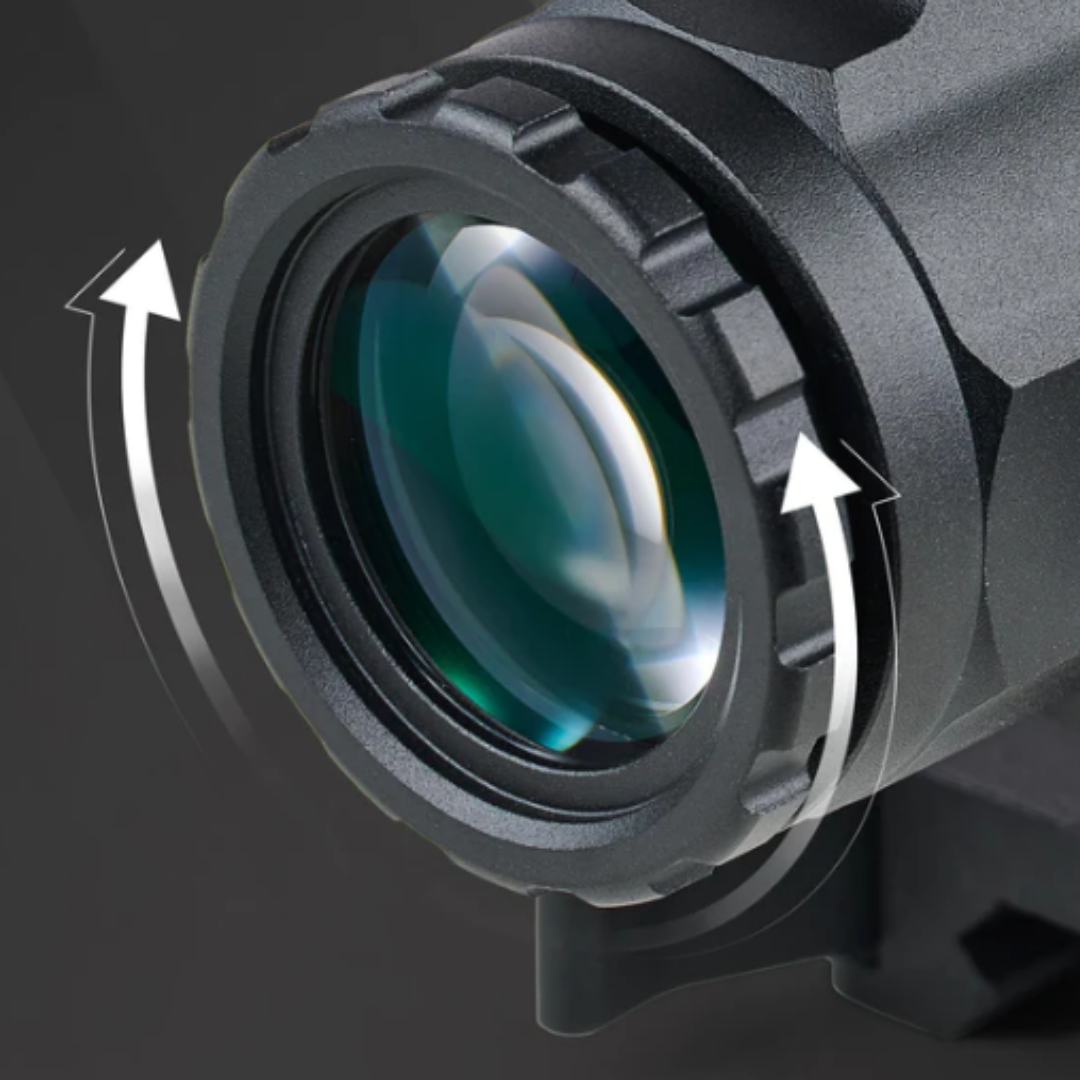 Quick Diopter Adjustability
Dials in crisp focus from -2 to +2 diopters to match your vision.
Fantastic Addition to My Arsenal
This Pinty Red Dot Magnifier is truly amazing! The 3x magnification is perfect for my needs and adds a whole new level of precision to my shooting. The flip-to-side QD mount is super convenient and allows for quick transitions. With the easy-to-use diopter adjustment, I can fine-tune the focus to my liking. Highly recommended for anyone looking for a reliable and versatile magnifier for their rifles or airsoft guns.
Clear and Crisp Sight Picture
It has exceeded my expectations. The red dot sight is crystal clear and the magnification really enhances my target acquisition. The flip mount is sturdy and holds the magnifier securely in place. I was surprised by how easy it was to adjust the diopter to match my eyesight perfectly. This magnifier is an excellent addition to my Picatinny rail.
Excellent Optics for the Price
The flip mount is solidly built and the quick-detach feature is just what I needed. The diopter adjustment provides a clear and bright sight picture. For the price, this magnifier is a steal and a great addition to my collection of optics.
great store to work with
So, I have had many Pitny products over last couple of years. I ordered this with same the expectations, unfortunately I received one that was after a few rounds defective, I contacted the seller on a Sunday and they replied on same day. I explained what happened and they were very easy to work with and shipped a new one out on Monday. I will be using this seller as a favorite from now on, Great company to buy from and BTW the replacement was spot on functions as expected.
works great
price was great,works fine.