Description
Prop up this durable all-metal laser sight using only a 20mm weaver mount or an 8 shaped 1" barrel mount. It even comes with the tools to adjust the windage and elevation to your environment. An interchangeable switch allows you to click a button to turn the unit on or use a remote to operate it. Come with 6-month quality assured warranty.
Features
DURABILITY, made of aerospace-grade aluminum, our laser sight features a 532 nm wavelength and works well in any weather conditions

POWERFUL GREEN LASER, highly visible green laser in any environment with improved accuracy, reaches up to 300 ft. during the day and up to 1000 ft. at night

CONVENIENCE & COMPATIBILITY comes with a remote control to easily switch the laser on and off; complimentary 1" barrel clamp mount and figure 8 mount to make this laser compatible with any 20mm width weaver rail base

UPGRADED OPTICS contribute to a super sharp and bright green laser sight, providing unparalleled clarity for the naked eye

PERFECT for novice shooters as well as professionals, our green laser scope is a must-have for anyone with a shotgun and can be used regardless of plinking or shooting competitively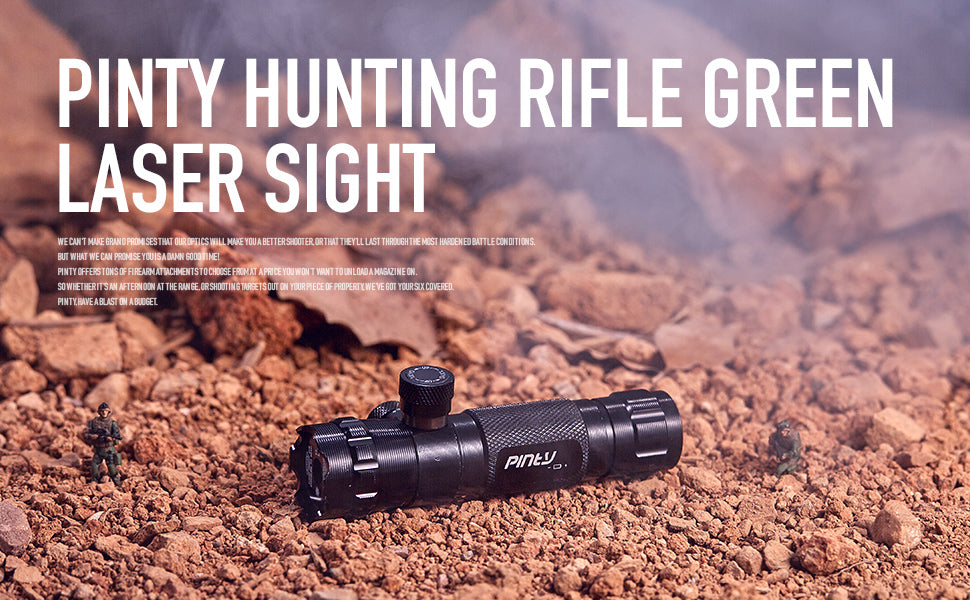 Specifications

Dimension: 4.72" (length) x 1.54" (Diameter)

Weight 4.5oz/150g

Power: < 5mw

Wavelength: 532nm

Reaching Distance: 980ft/300m

Battery: 1x CR123A Lithium-ion battery (included)

Laser Class:  CLASSIIIa

Package Includes

1x Green Dot Laser Sight Scope with Switches

2x Metal Mounts

1x Hex Wrench

1x Cr123a Battery

1x Storage Box
 

Operation:

Attach the sight to your weapon.
Twist the two small screws located at the head of the sight with a small Allen wrench to adjust the elevation and windage.
Turn the screws until the main laser spot overlaps with the scattered points.

Press the button or switch to turn on the laser.

Open the back cover to replace the battery.

Warning
Never look directly at the laser beam.

Never point the laser beam at a person.

Do not aim at reflective surfaces.

Do not view the laser pointer using optical instruments like binoculars or microscopes.

Children should not use the laser pointers unless under the close supervision of an adult.
| | | |
| --- | --- | --- |
|   | | |
| 8 figure dual-hole mount to mount accessories onto your scope | Precise elevation and windage adjustment | Far-reaching green laser with unparalleled brightness & clarity |
Customer Reviews
10/25/2021
SethH

United States
Cheap but that's why I got it
Took a little over a week to arrive. Snapped on and sighted it in minutes. Pros- cheap, easily replaceable, not adding weight with things I can't use (like inv ), the beam doesn't scatter too bad and though faint in direct sunlight it can be seen outside midday. Also comes with a pressure switch. I run a light instead on the switch but I like the option. Cons- the mount is functional but terrible. I wish it came with an angled mount option to keep more in line with the barrel instead of having it stick out so far. I'm not a fan of the star head hardware. Also my windage and elevation dials work backwards ( up is down, left is right) Overall- if I had a reason to buy another I'd get this again. It's not SF grade, but I don't have a Pentagon budget or operational expectation either. I bought a laser specifically for low light cqb and this hits every criteria. Well done. Only time will tell if it stands up to long term abuse. Thanks pinty
08/31/2021
Thomas E.

United States
Intial review
Arrived very quickly. Looks like made well. Will test shortly. Very bright, green beam @60 yds. Daytime..