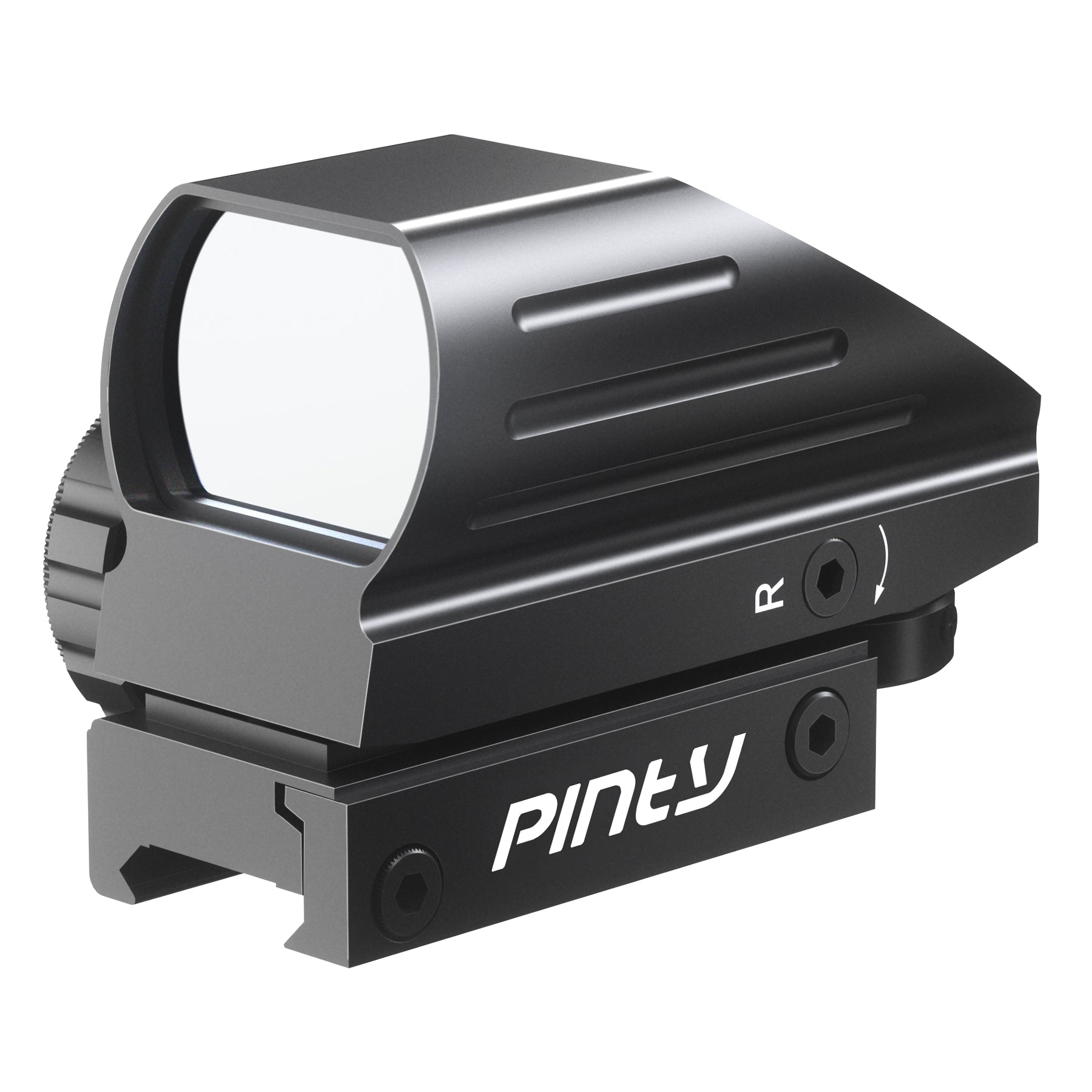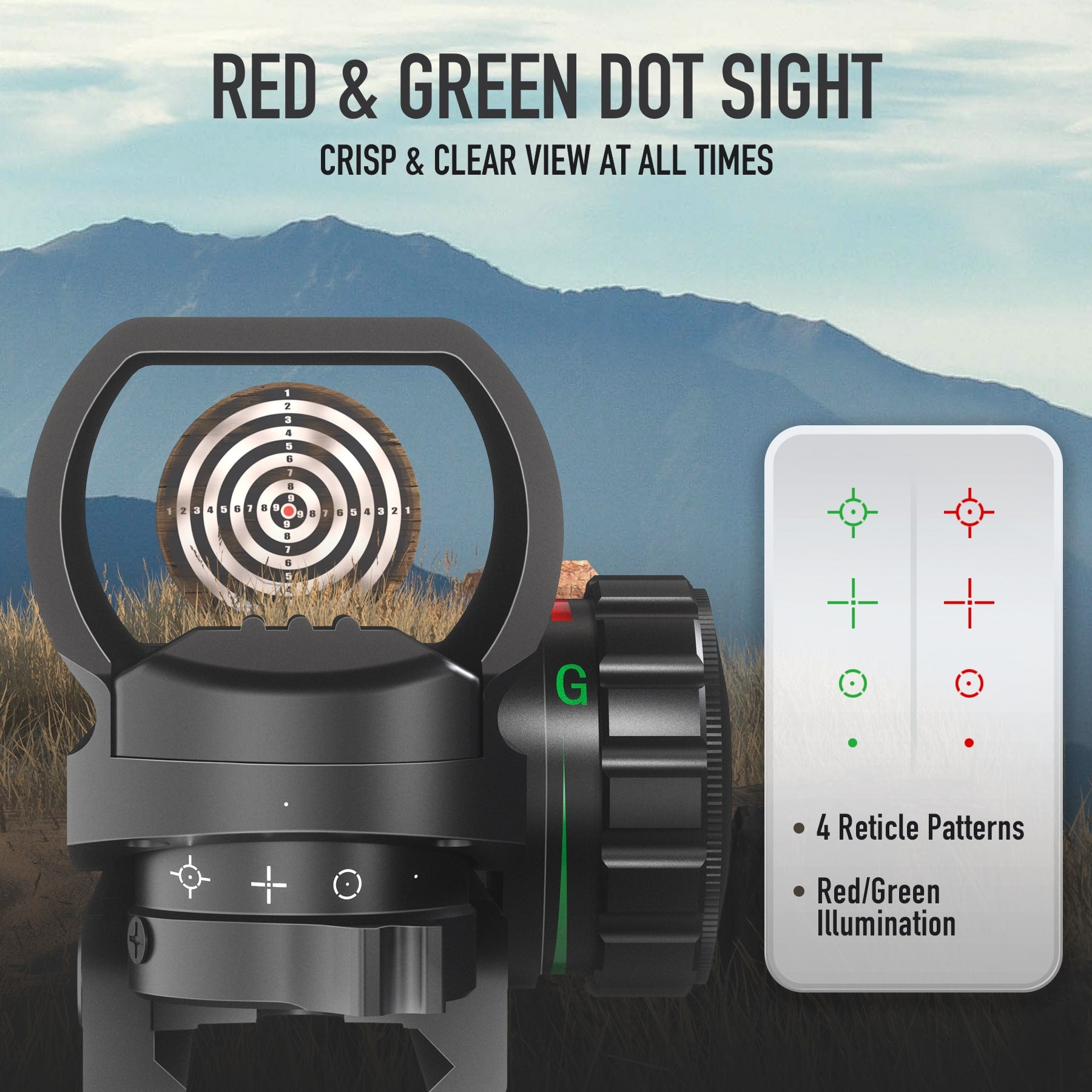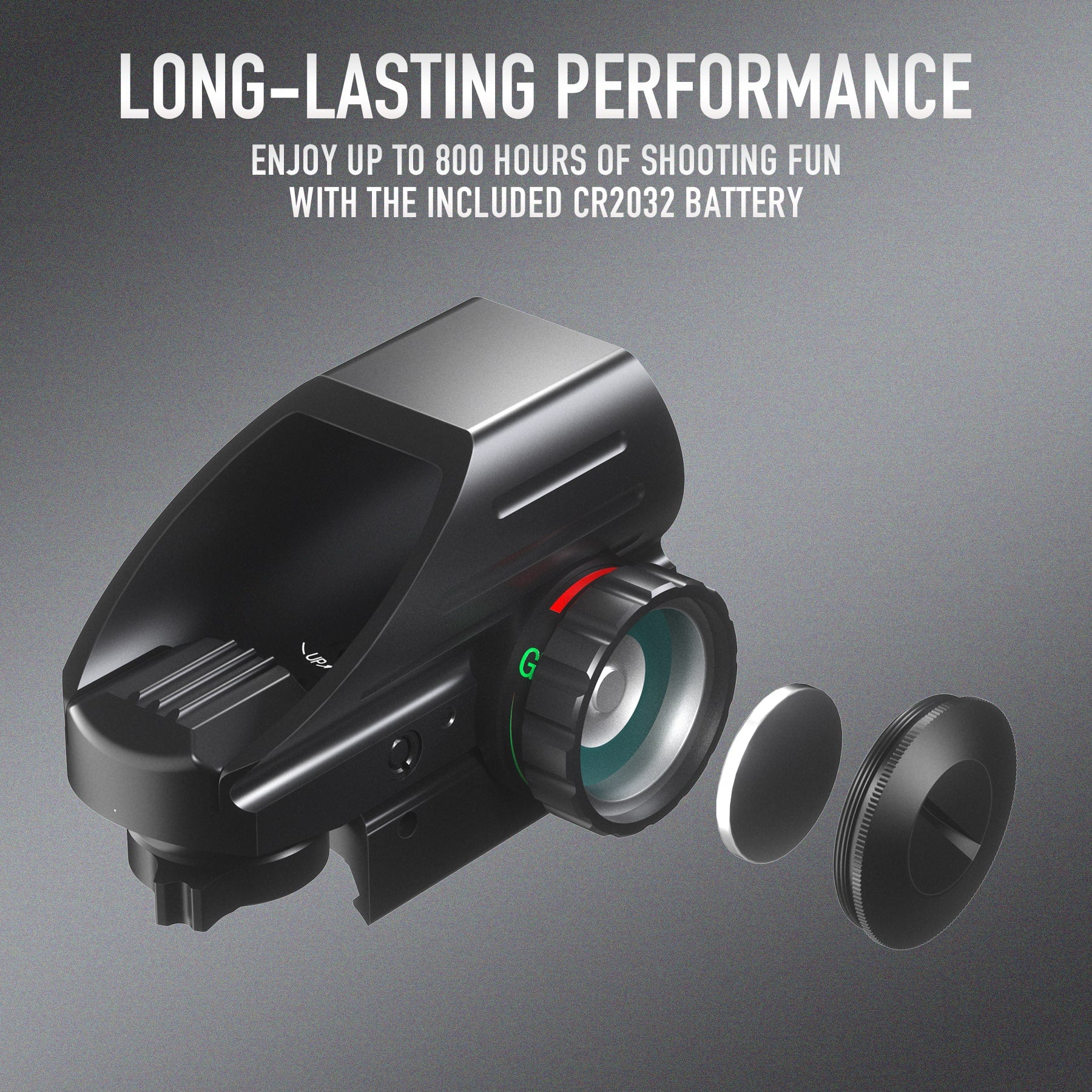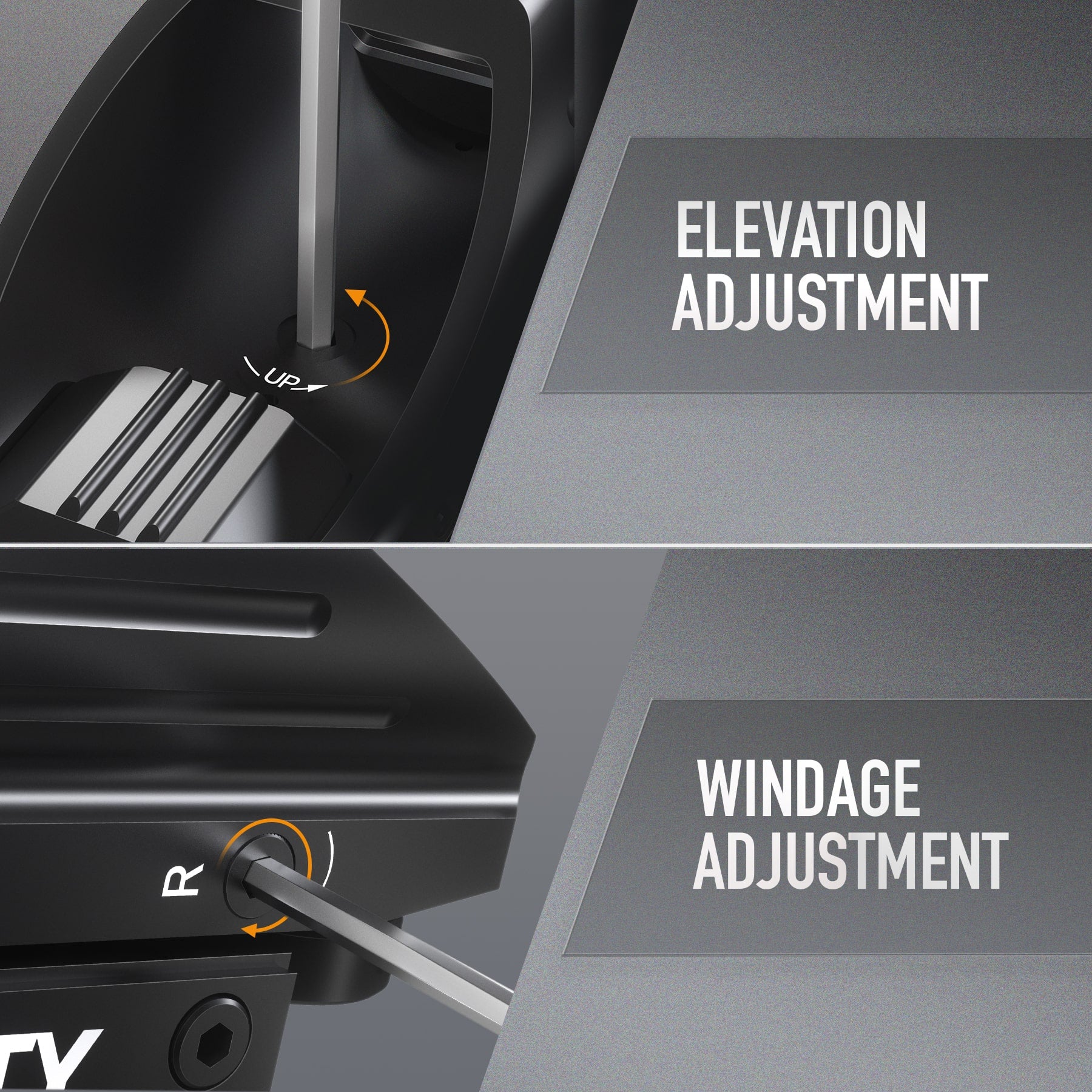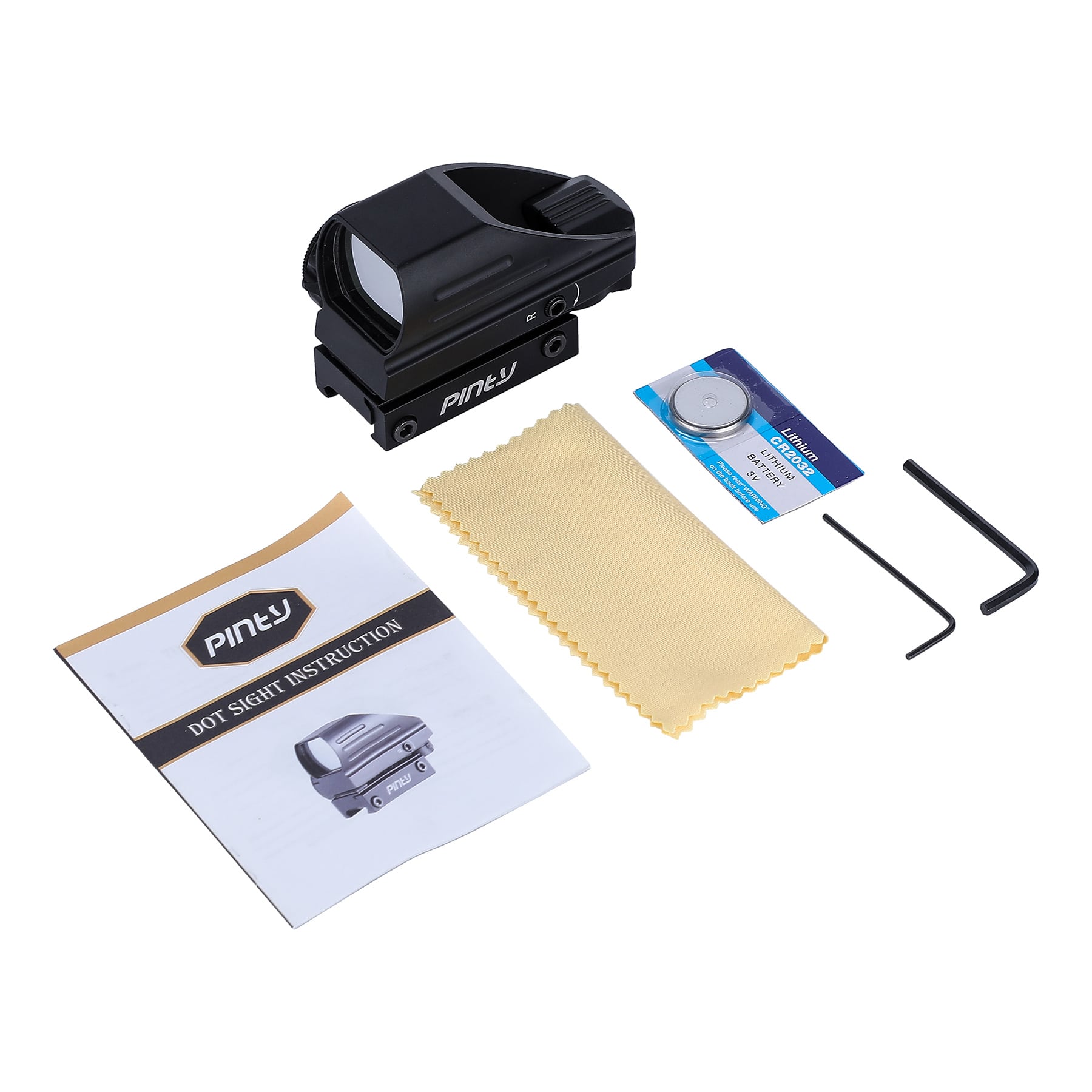 Red & Green Reflex Dot Sight, 4 Reticle Types, Strong Lens Frame
Leaves warehouse in 2 Business Days
Note: Shipping may be impacted by carrier delays
Red & Green Reflex Dot Sight

Try our brand new reflex hunting scope with red/green dot sight. Made of aircraft-grade aluminum alloy, it is durable and easy to clean. Lightweight construction, along with waterproof, fog proof and shockproof characteristics enhance the performance in all weather conditions. The red and green reticle each offers 4 different types of patterns which offer unlimited eye relief and corrected parallax and make it perfect for rapid-firing and moving targets. These gun sights also come with free 20mm mount rails. Deservedly the best handgun red dot! Take it with you on your next hunting trip!
Innovation is always our vision. Yet we have another goal in mind, and it has kept us marching forward. Nothing puts a bigger smile on us than knowing our customers are happy with our innovative products. In return, the last decade has seen a successful and rapidly expanding company.
8 Reticle & Color Combos
Toggle between 4 patterns in green and red with adjustable brightness.
Unlimited Parallax-Free View
Non-critical eye box allows rapid firing from any angle.
Great Bargain Red Dot Sight
I stumbled across a YouTube video about sighting in a rifle. The author mentioned the PINTY Red Dot and that his son liked it so much, they had several in the family. When he named the price, I figured that I had little to lose to try it. I had been struggling to sight in a Smith & Wesson M&P 15-22 with the "iron" sights. It was easy to install. I started trying to sight it in at too long a distance when our Range Safety Officer said a lot of people start at 10 yards, get it sighted and move out farther. That worked for me. There are multiple sighting patterns to choose in both red and green. The sights are dimmable to accommodate different lighting situations . It's crazy how much is packed into this tool for around $25. Now I wonder what the big money sights do, but for now this is just right for me.
Amazing for the price
I liked my original one so much and the customer service was so friendly and helpful i ordered a second one from the company web sight. They were on sale ( as if they weren't cheap enough already). I put it on a 12 gage bull pup and so far after 40 rounds its holding zero and working great. I was worried the 12 gage would be to much for it but i shot some 2-3/4" 1 ounce slugs and #8 bird shot without issue. I am shocked how well its working considering the price.
Amazing and affordable
Bought two of these....as I thought I'd give them a try on my AR-15's....I've had them for several years and they remain as accurate as the day they were zeroed - after thousands of rounds and tactical exercising.
Great buy for price
While this won't easily be mistaken for a real mil-spec optic, it is built well and seems durable- if a little bulky. At this price range, to be able to take the recoil of something larger than a .22 and maintain zero is impressive- and it does it just fine. So, maybe not a perfect choice for something upon which I'd bet my life- let's face the fact that a hobby rifle would do just fine with this. The color is great and matches will with my son's two-tone AR with .22 conversion- and it even holds zero when we run it with 5.56 without the conversion kit installed.
A Decent Reflex Scope
I have purchased several of these and they have worked exceptionally. Very easy to install and maintain zero through hundreds of rounds. Sighted for 200 yards and is an excellent addition to my firearm. Works as well as the high priced red dots.