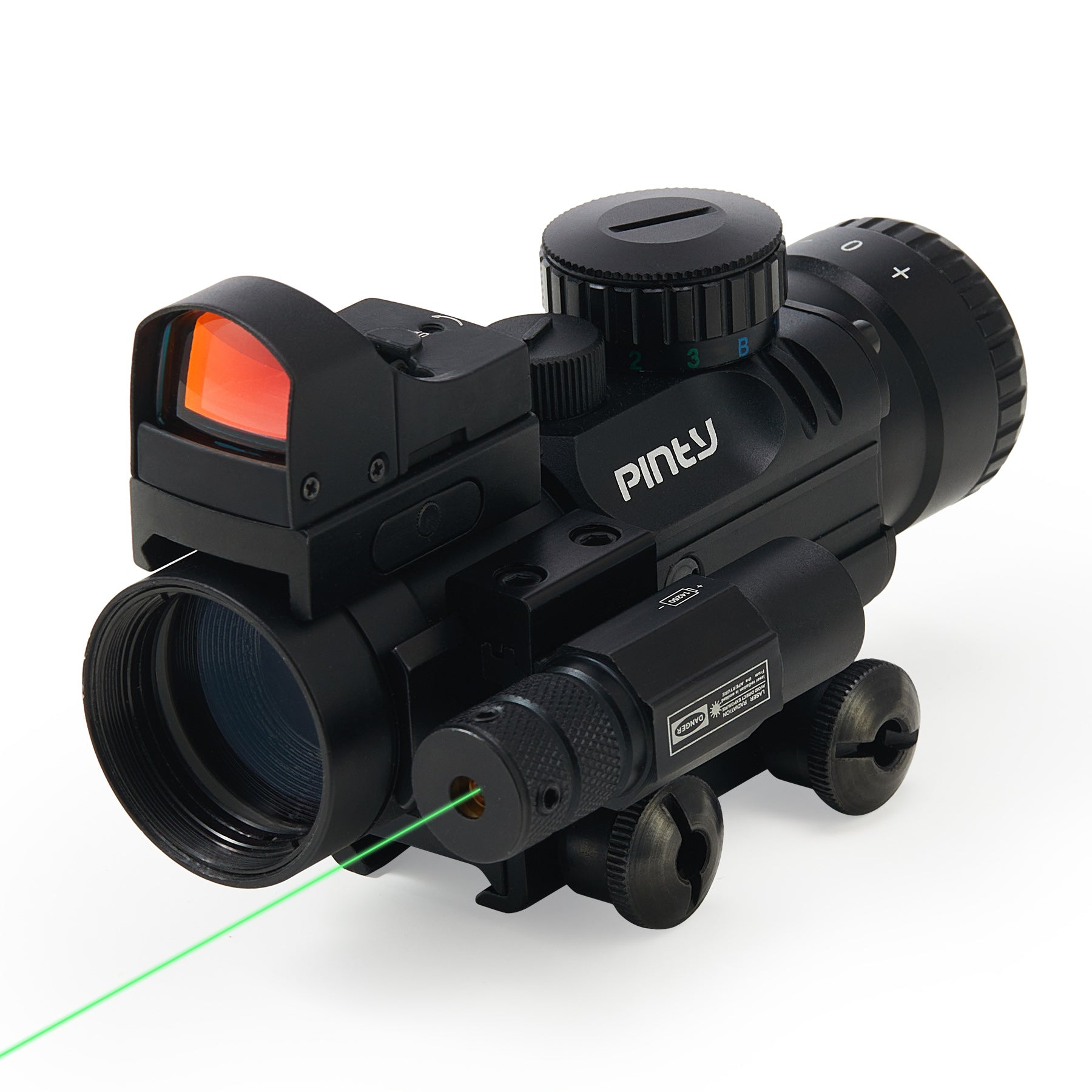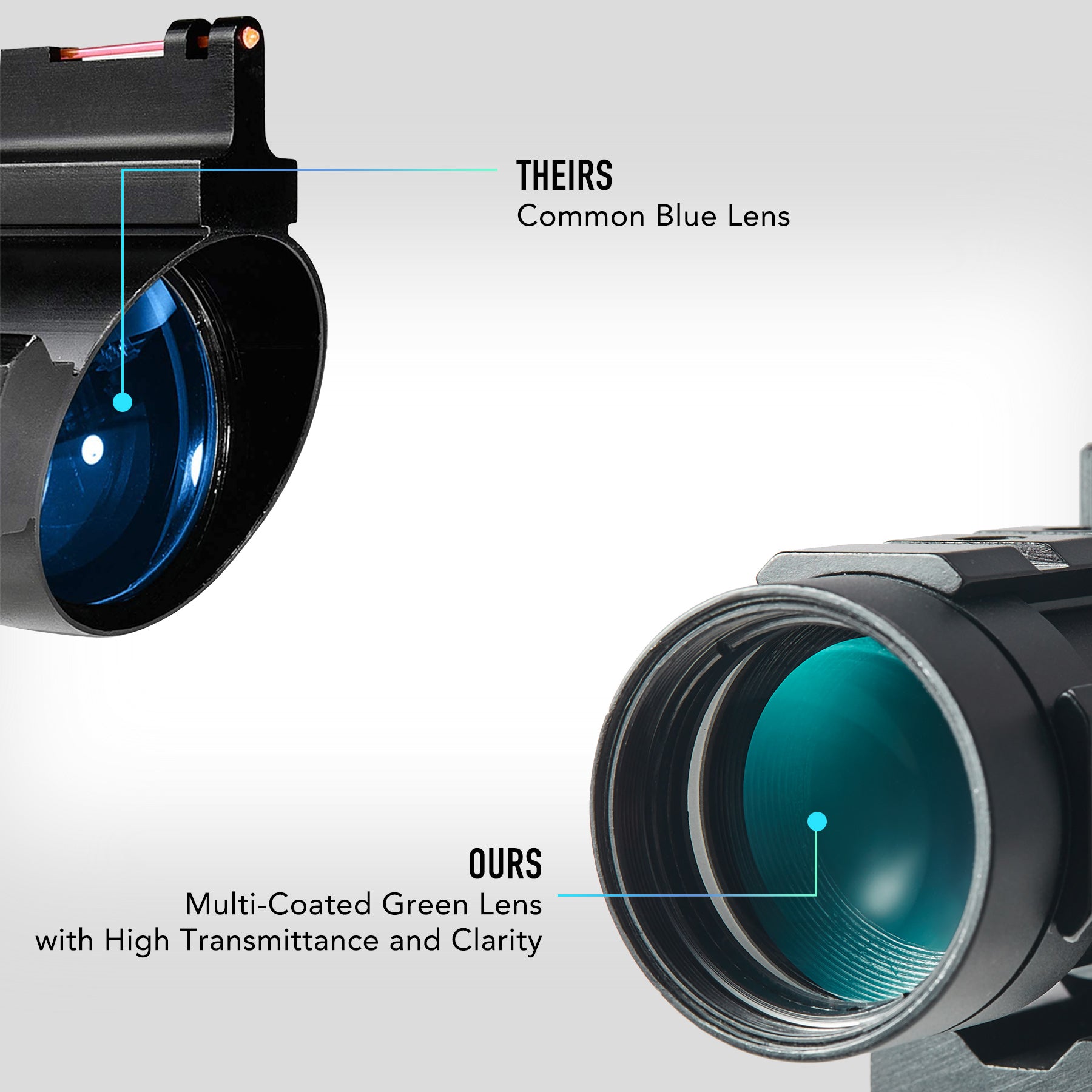 4x32 Rifle Scope with 3MOA Red Dot Sight and Green Laser
Leaves warehouse in 2 Business Days
Note: Shipping may be impacted by carrier delays
4x32 Rifle Scope Combo

A must-have for marksmen, this 4x32 rifle scope combo with red dot and green laser is not only fast and easy to handle but also provides starburst-free clarity and visibility superior to the competition thanks to the fully multi-coated green lenses.
Our rangefinder rifle scope has 3 levels of green, red, and blue illumination to meet various light levels and different shooting needs, whether hunting, practice shooting, or undergoing tactical training.
The red dot and green laser sight help you zero in on your target more easily, while the windage and elevation can both be easily adjusted with the provided tool.
This rangefinder scope combo's anodized aluminum construction resists shock, wear, tear, and corrosion, while the multi-coated lenses can handle rain, fog, and other tricky conditions.
Fitting any firearm with standard 20mm Picatinny or Weaver rails, this 4x32 rifle scope is sure to simplify your life.
Real Patriots know the difference between quality and cheap products. They know the importance of freedom and what it takes to secure liberty. That's why your glass must never break down on you when you need it. For protection, target shooting, or those just learning how to exercise their God-given 2nd amendment right, we come in a variety of options to fit your performance needs. Don't miss out on this 4x32 Rifle Scope Combo.
High Transmittance Optics
Fully multi-coated green lenses provide bright, vivid target viewing and ranging.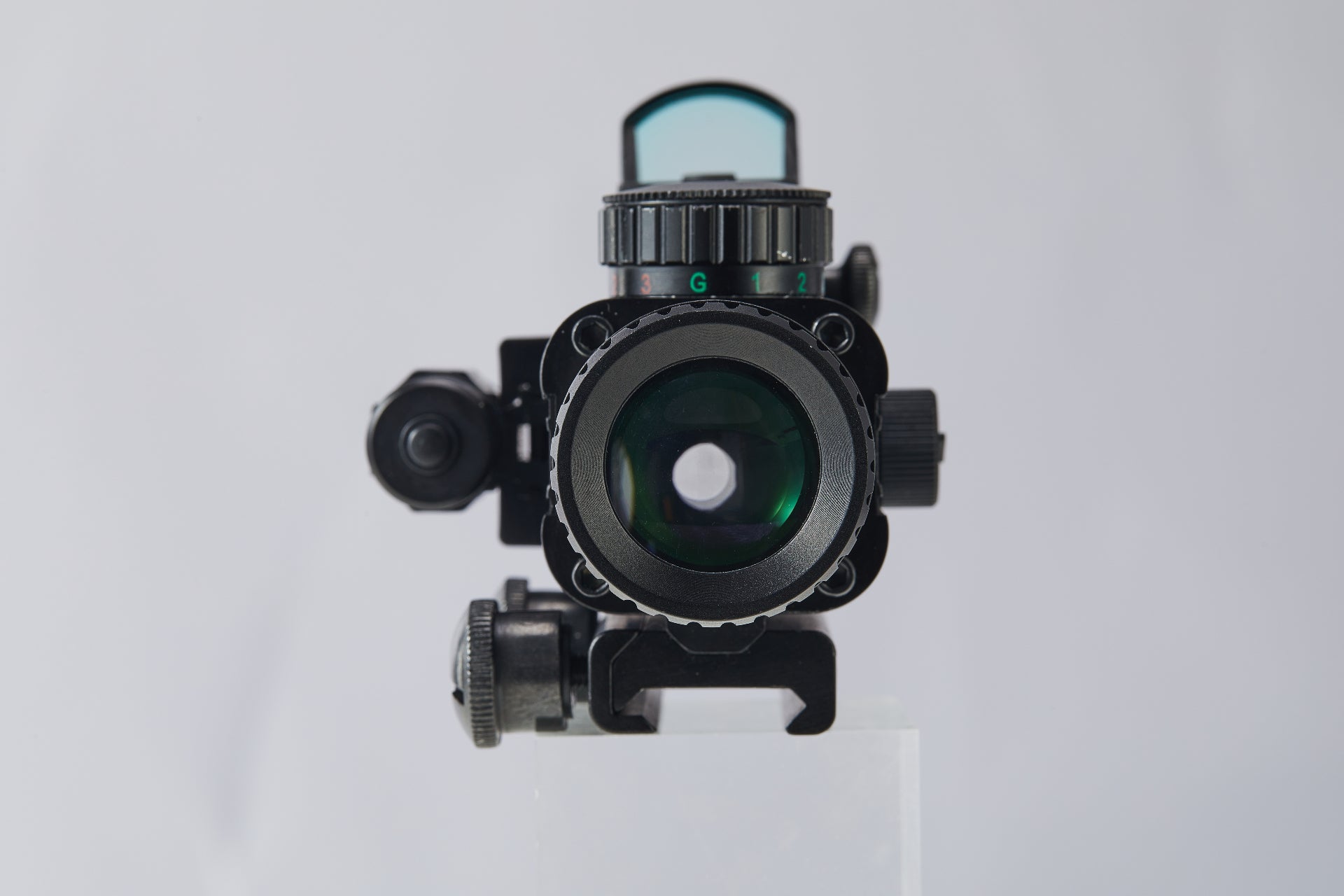 Adaptable Low Light Vision
Adjustable red dot sight and green laser excel at dawn, dusk and in dark conditions.
Highly Recommend
I highly recommend this product to anyone looking for an affordable and versatile rifle scope.
Accuracy improved
It has exceeded my expectations. The optics are crystal clear, allowing for precise target identification even at higher magnifications. The red dot sight and green laser are easy to adjust and provide excellent visibility in all lighting conditions. This scope has greatly improved my shooting accuracy.
Extremely Satisfied
I purchased the Pinty 4x32 Rifle Scope with the 3MOA Red Dot Sight and Green Laser, and it has been an excellent addition to my rifle. The scope offers clear and crisp images, allowing for precise aiming at various distances. The red dot sight is convenient for quick target acquisition, while the green laser provides an additional level of accuracy. Overall, I am extremely satisfied with this product.
great investment for any shooter
I've found the Scope with the 3MOA Red Dot Sight and Green Laser to be highly durable and reliable during my outdoor shooting sessions. The scope's construction feels solid, and it has withstood the recoil of various calibers without any issues. The red dot sight and green laser are both incredibly helpful for aiming quickly and accurately.