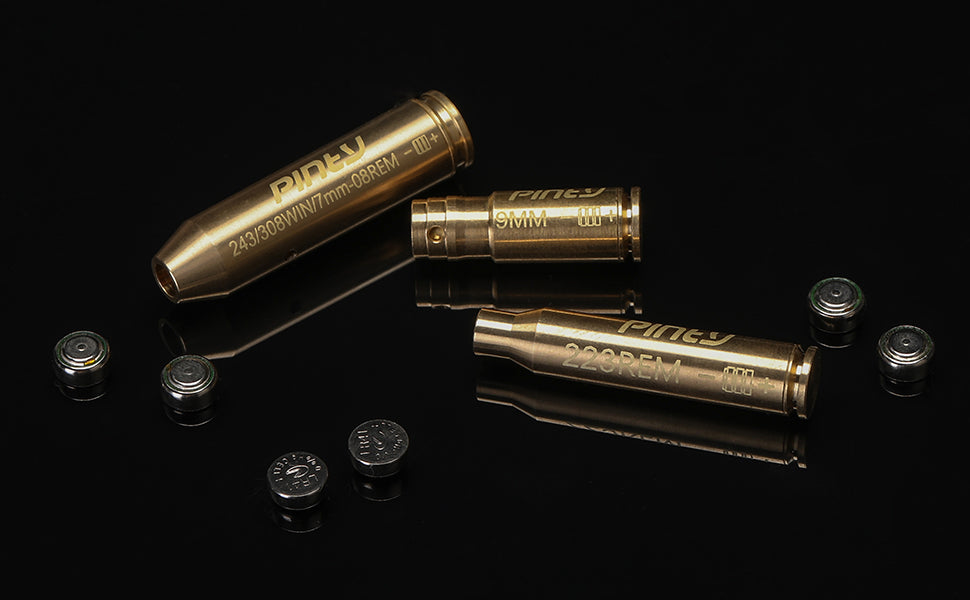 Description
This laser bore sighter is designed for sighting your rifles and shotguns without firing a single shot. When boresighting with the naked eye just won't do, this safe, easy-to-use tool will get it done. Simply choose the caliber adapter and place the laser unit in the muzzle. The sight will emit a straight red laser beam with a long sighting range, providing a precise reference for zeroing in on with your sights or scopes. Unlike most in-muzzle bore sighters this unit protrudes obviously from the firearm to prevent an accident. It fits 0.22 to 0.50 caliber rifles, handguns, and scopes and allows for quick and accurate resetting of any sight type (iron, optical, laser, holographic, etc.). For ultimate accuracy, the boresighter is windage and elevation adjustable. It's also lightweight and durable and comes with four adapters, extra batteries (six total), and tools so that you'll have everything you need to boresight all your weapons.
Features
FITS VARIOUS GUN TYPES: This red dot laser bore sighter is made for sighting your rifles, shotguns, and handguns without having to fire a single shot. You can even dial in your sights indoors.
CALIBER ADAPTERS: Simply choose the correct caliber adapter and place the laser unit in the muzzle to fit a wide range of firearms from .22 to .50 caliber.
PRECISE ACCURACY: The sight will emit a perfectly straight red laser beam, providing a precise reference for zeroing in on your target.
MUZZLE SAFEGUARD: Unlike most in-muzzle bore sighters, this unit remains protruded from the firearm barrel to prevent accidents. Use after your gun cleaning kit for best maintenance practices.
HIGH POWER LASER LIGHT: Class IIIa laser beam for high visibility with maximum power output less than 5mW. For affordable quality gun tools and tactical accessories, always choose Pinty.
Specifications:

Max. Output Power: less than 5mW

Weight: 1.34oz/38g

Material: Aluminum

Length: 6.1"/155mm

Length of the rod that fits in the barrel: 2.36"- 3.54"/60mm - 90mm (tapered)

Head diameter: 16mm

Tail diameter: 5mm

Laser wavelength: 635-655nm

Laser color: Red

Power: 3x AG13 batteries

Package Includes:

1 x Padded storage box

1 x Laser bore sighter

1 x Screwdriver

1 x Spare screw

1 x Allen wrench

4 x Adapter tips

6 x AG13 batteries (3 spares)
Before you order please read the adapter sizes carefully to ensure the adapters fit your gun(s):

Adapter 1: .435 to .50 Cal.

Adapter 2: .350 to .434 Cal.

Adapter 3: .280 to .349 Cal.

Adapter 4: .220 to .270 Cal.
One-piece design

The laser is aligned to the center of the shaft

Tapered self-centering adjustment

Push the laser into the barrel, it centers itself

Easy setup tool kit

Select your adapter size and go