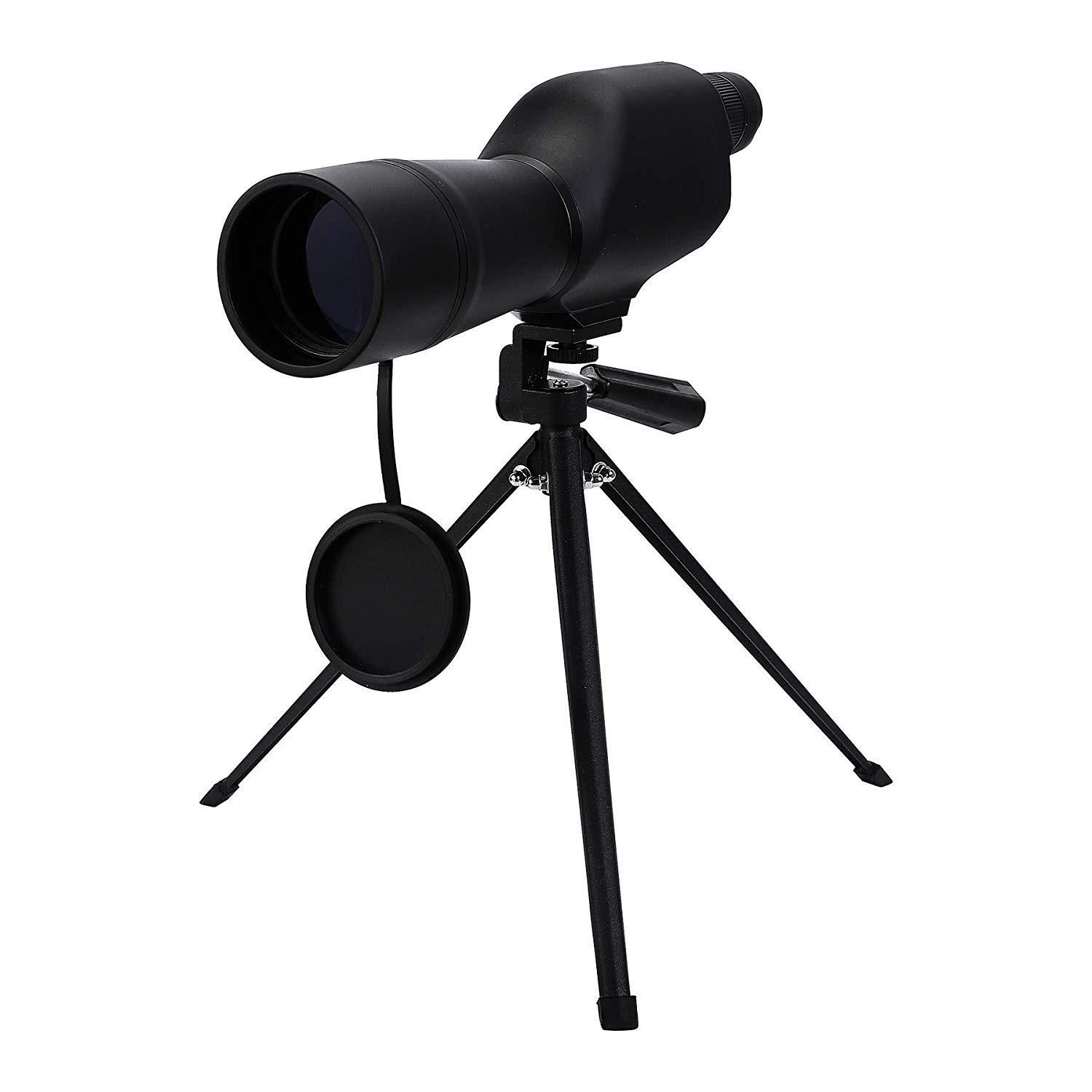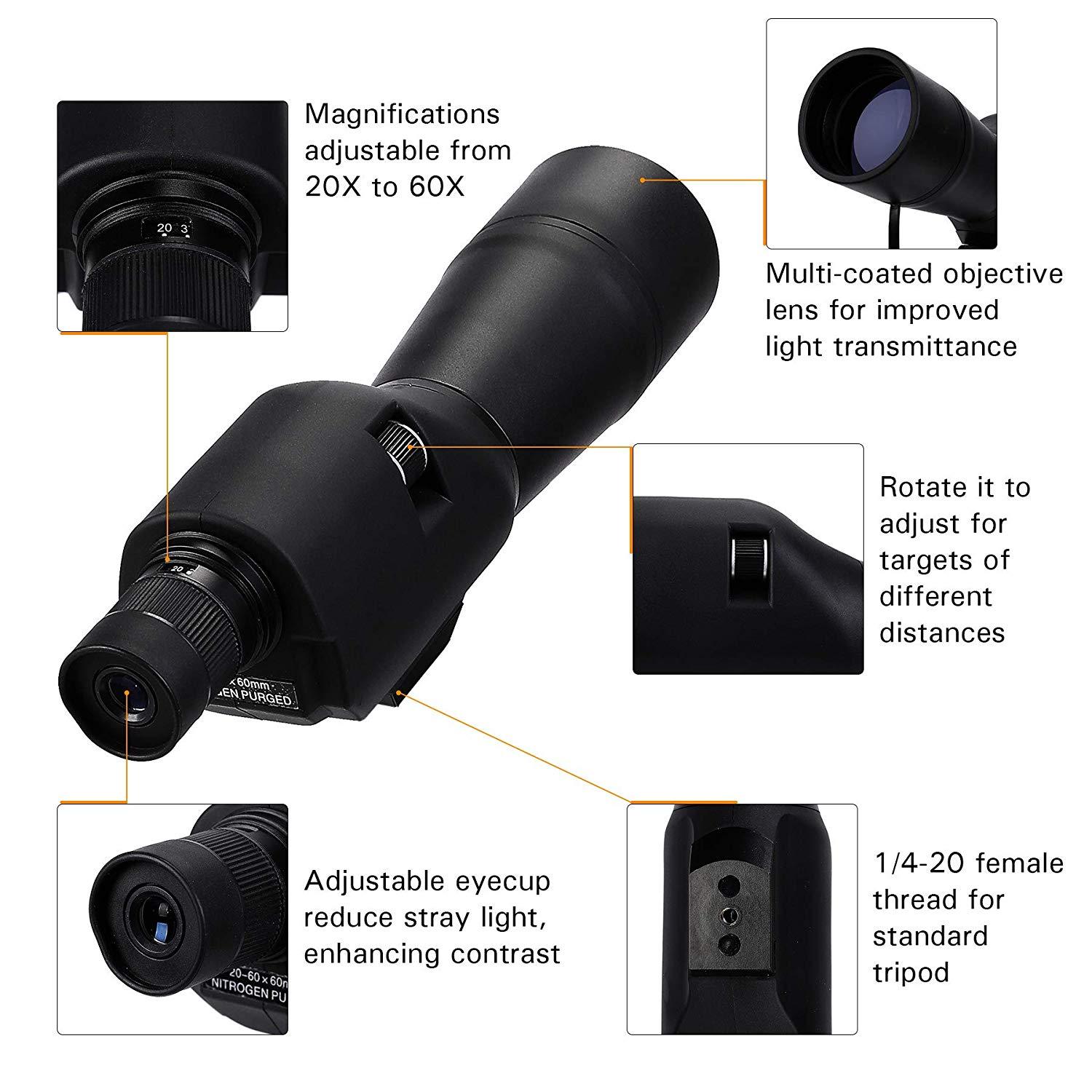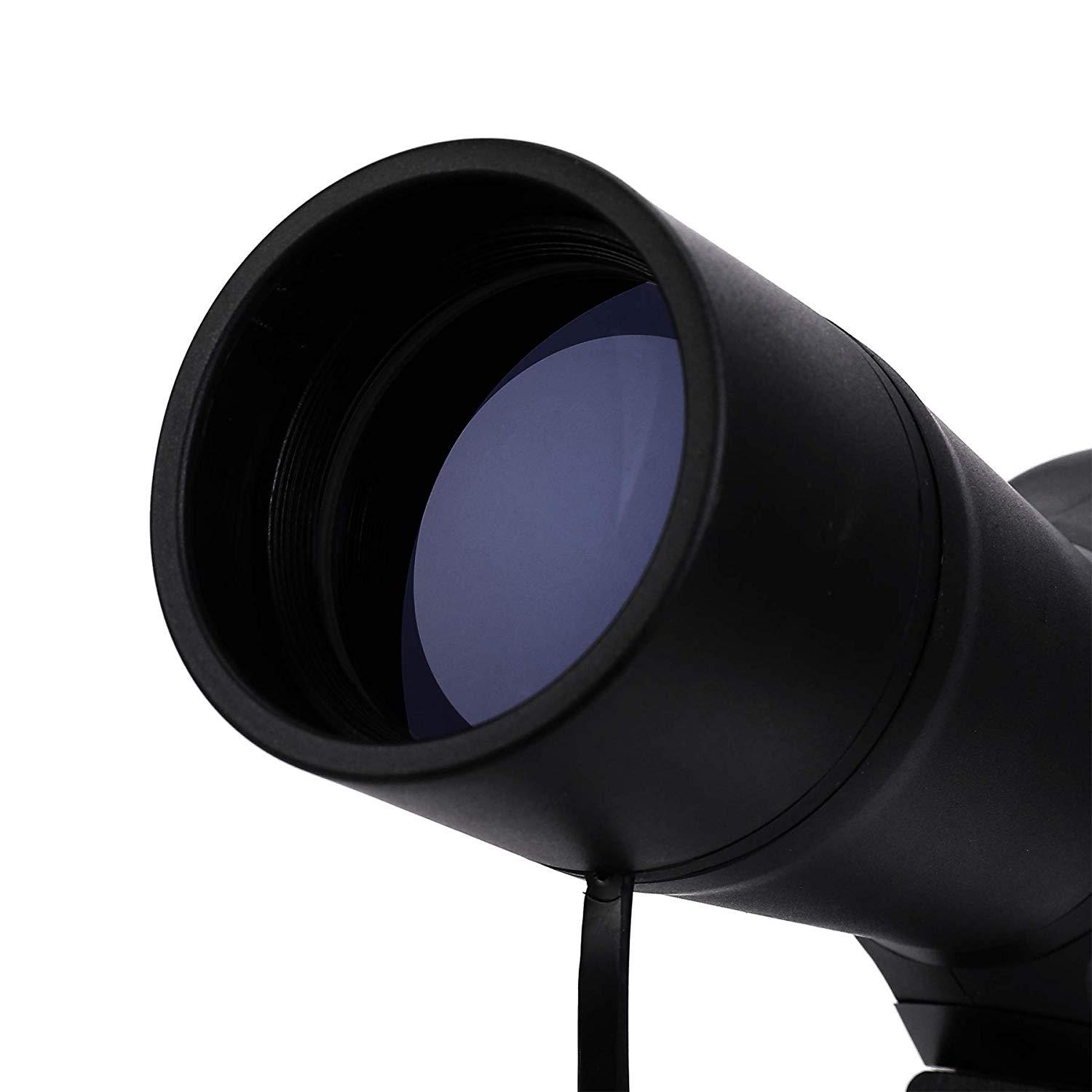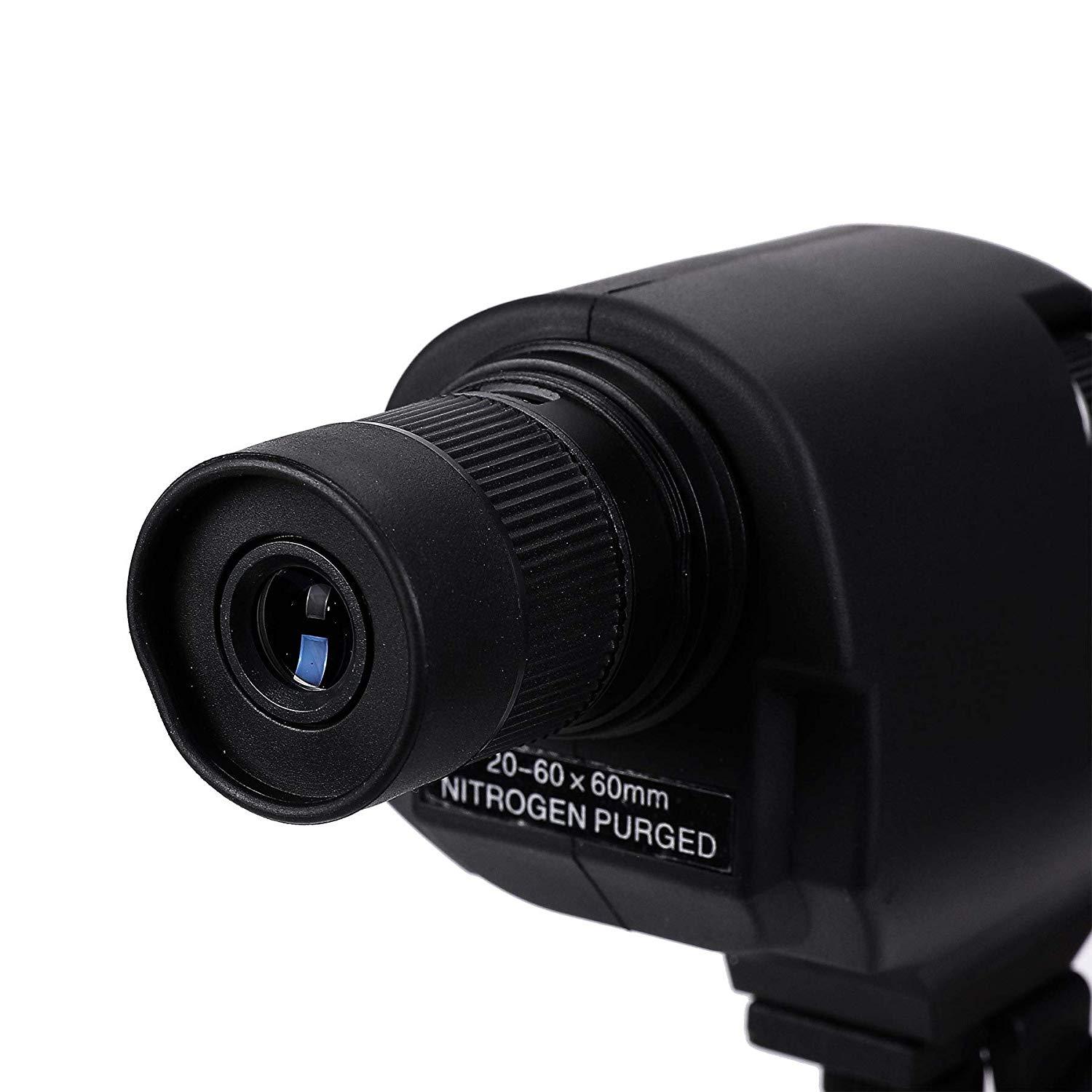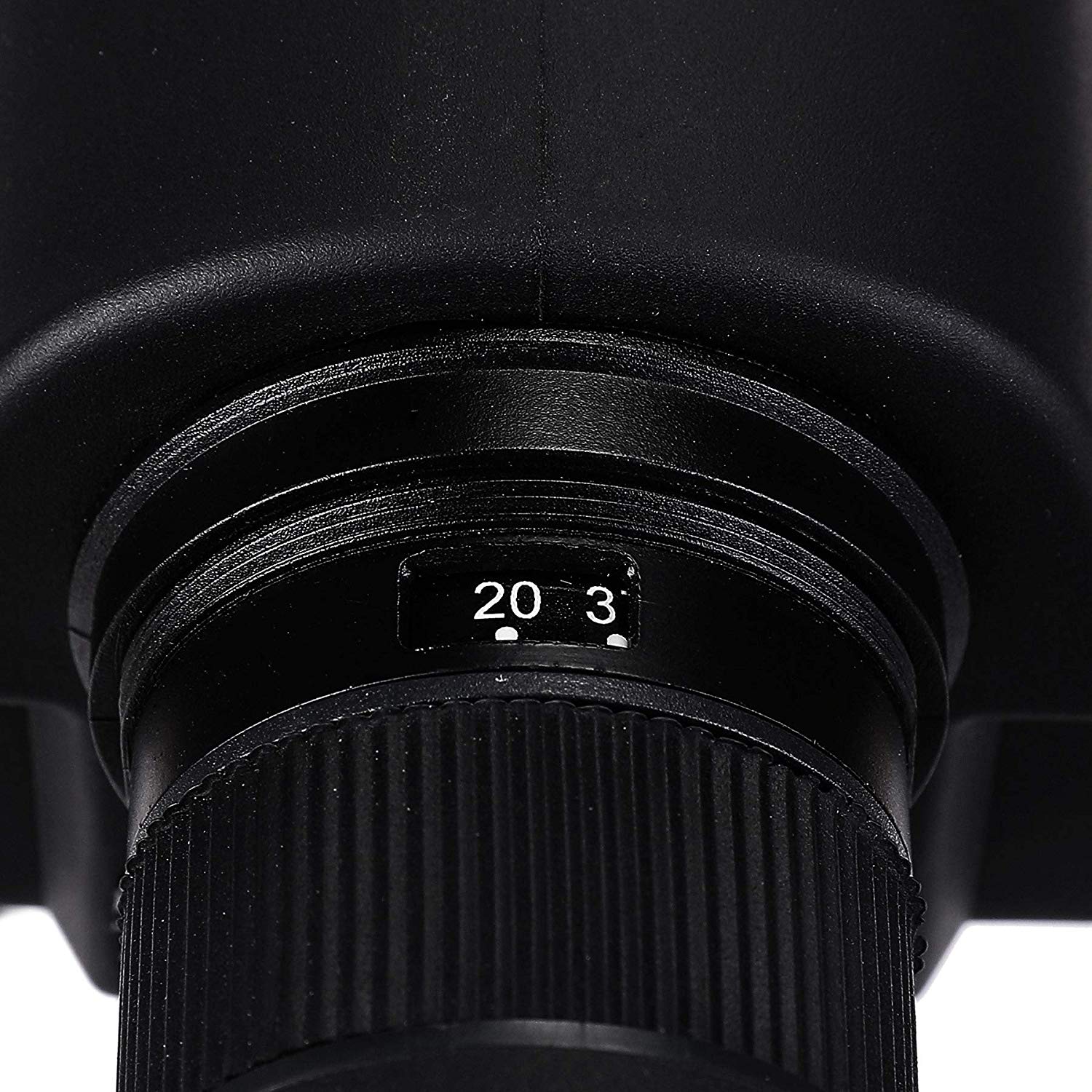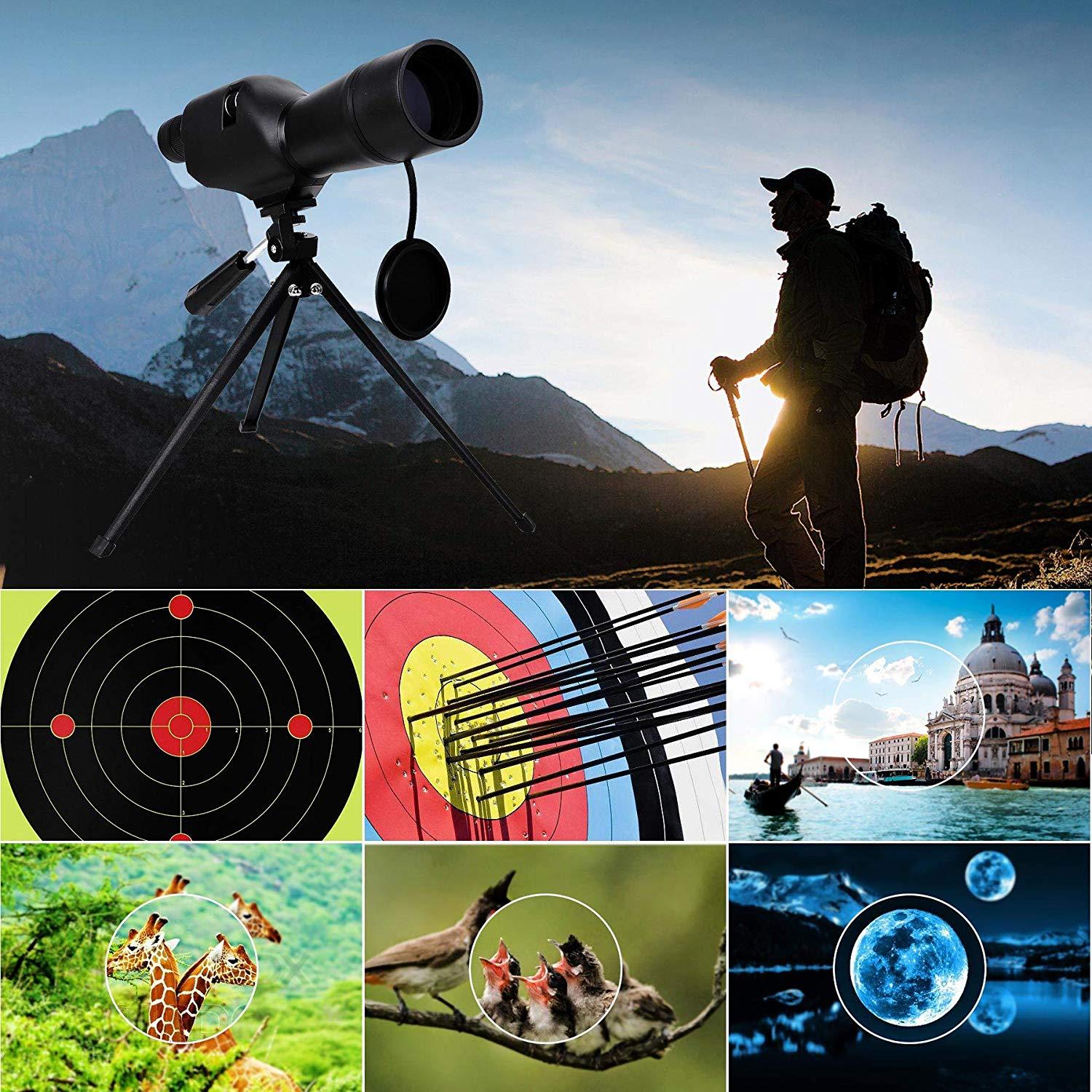 20-60*60mm Waterproof Straight Spotting Scope with Tripod & Cellphone Mount
Leaves warehouse in 2 Business Days
Note: Shipping may be impacted by carrier delays
Waterproof Straight Spotting Scope with Tripod & Cellphone Mount
This bird-watching spotter telescope never fails your expectation whether you are a sharpshooter, an astrophile, or an animal lover. Its 20-60x magnification caters to all your needs of a high-definition observation and its lightweight design with a tripod and a digiscoping adapter makes it a perfect choice for outdoor stable and convenient observation and photographing. The rubber-coated surface ensures a secure grip and gives reliable protection. The waterproof spotting scope is manufactured from waterproof material and nitrogen filled for fog proof in extreme weather conditions. An eyepiece is ideal for people who often view upward from a lower vantage point. It's the perfect beginner telescope for target shooting, bird watching, hunting, archery, hiking, scenery, traveling, and other outdoor activities.
Multi-coated objective lens for improved light transmittance

Adjustable eyecup reduces stray light, enhancing contrast; Comes with a phone holder for your convenience

Magnifications adjustable from 20X to 60X; 

Rotate it to adjust for targets of different distances

Intuitive and easy to use 

Faster than angled at target acquisition

Forms a straight line from you to your target

See target in the same direction scope is in

Don't have to adjust the tripod to find the target when trading binoculars off the tripod and replacing them with a spotting scope for finer and closer viewing

Can be mounted higher off the ground to avoid most effects of mirage

Easier to view at levels below eye level or yourself, and easier to move and use when attached to a car mount

The eyepiece has more protection from rain and snow
Benefits of Straight Spotting Scopes:
Who Should Use a Straight Spotting Scope?
Аll huntеrѕ wіth dіffеrеnt ѕkіll-lеvеlѕ саn еаѕіlу uѕе а ѕtrаіght ѕроttіng ѕсоре. Вut, thеу'rе еѕресіаllу uѕеr-frіеndlу аnd іntuіtіvе fоr nеw uѕеrѕ tо ѕроttіng ѕсореѕ bесаuѕе their design allows for еаѕіеr and fаѕtеr capabilities to track moving tаrgеtѕ.
When to Use a Straight Spotting Scope?
If you are hunting or tаrgеt ѕhооtіn thеу wіll рrоvе еѕресіаllу convenient. If уоu regularly hunt аnd ѕhооt frоm trее ѕtаndѕ, blіndѕ, rіdgе-lіnеѕ, аnd frоm саr mоuntѕ. In addition, thеу wоrk fantastic fоr оbѕеrvіng nature or mаrіnе-wаtсhіng.
Innovation is always our vision. Yet we have another goal in mind, and it has kept us marching forward. Nothing puts a bigger smile on us than knowing our customers are happy with our innovative products. In return, the last decade has seen a successful and rapidly expanding company.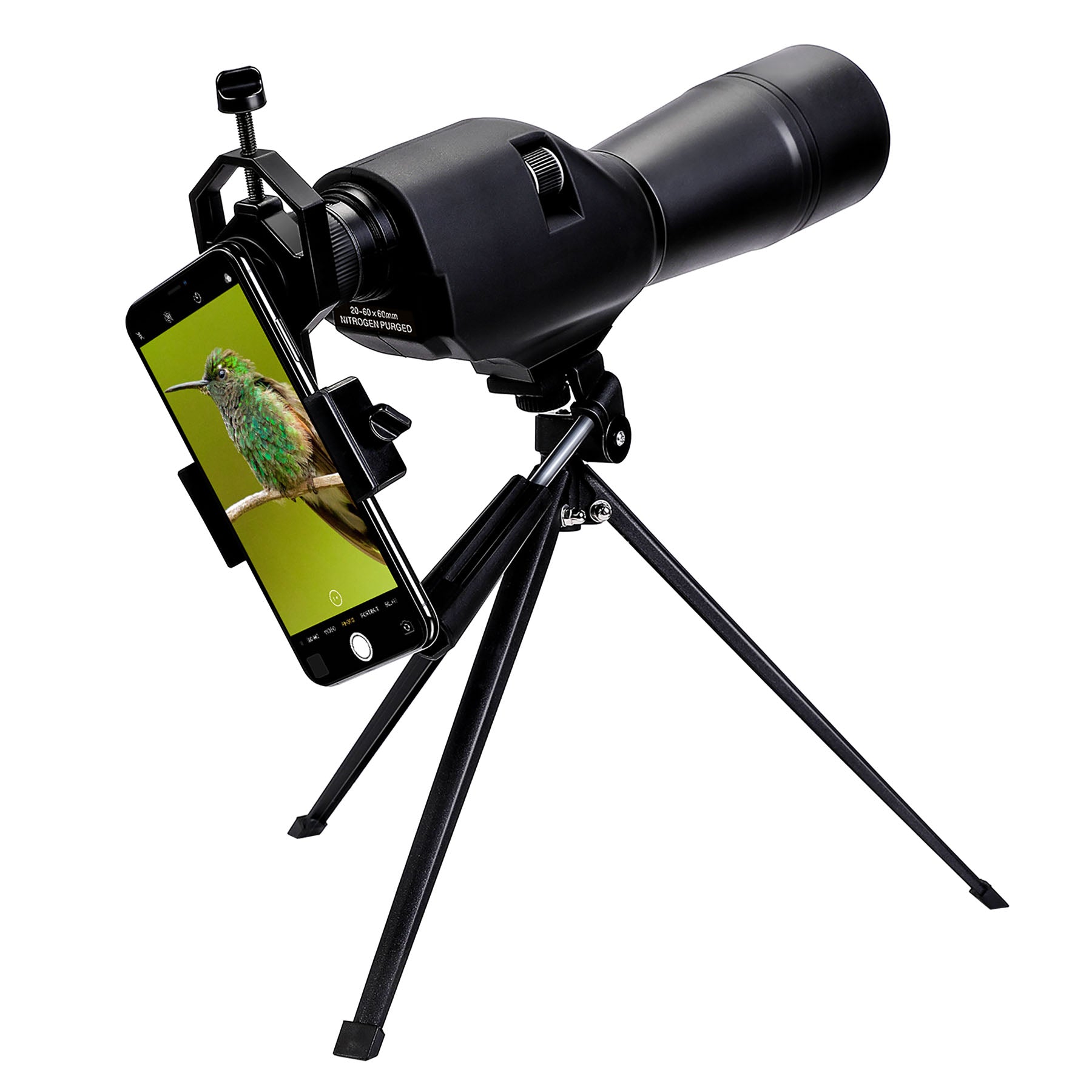 Powerful Magnification Range
Zoom adjustable from 20x to 60x brings nature into crisp, detailed focus whether near or far.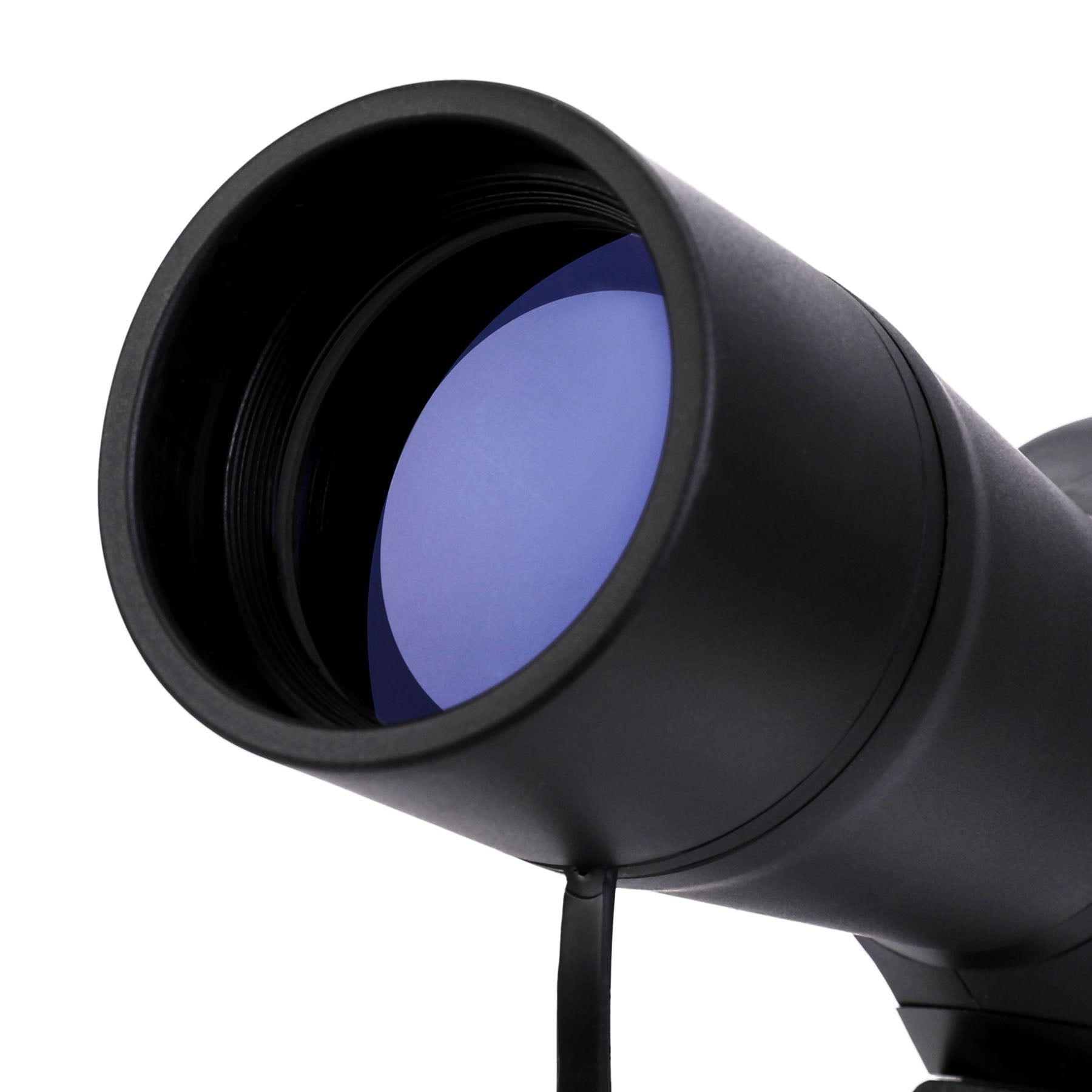 Fully Multicoated Optical Lens
Increased light transmission through fully multicoated lenses ensures bright, high-contrast images.
Decent scope for the money
I purchased the 4-12×50 with the green dot and open eye red cross hair sight. Love the scope but 4 days after I got it the laser sight quit working properly. If it wasn't for this, I would most definitely give it 5 stars
Thank you for your honest comment of our products. We will improve our products in response to your feedback. Our desire is to keep innovating to make scopes that satisfy every customer. -- Sincerely, Pinty
Perfect for the Range!
I range goes out 150 yards, I get crystal clear views, vibrant colors , and fantastic contrast on marking targets. I've seen similar feature scopes for $300.00