Features:

4 MODES: This compact firearm accessory by Pinty operates in four modes: 225 lm standard and strobing tactical flashlight, 5mW Class IIIA green laser, and flashlight and laser together
LOW PROFILE: This laser flashlight combo offers a minimal profile under 2 inches, despite offering its CR123A battery offering more than 8 hours of continuous laser use, 2 hours of continuous LED light use, or 100 minutes of continuous combined use
6061 ALUMINUM: Our high-density 6061-T6 aluminum alloy housing keeps everything under 5 ounces but provides superior strength, heat stability, and longevity under even punishing conditions
WIDE COMPATIBILITY: This compact green laser and LED light combo fits nearly all handguns, rifles, and carbines with a standard Picatinny rail (Note that pistol use requires a minimum rail length of 1.1 inches or 27 mm)
SATISFACTION GUARANTEED: Pinty rigorously tests our products to offer the most effective and highest quality handgun accessories on the market; order knowing that our usual strong warranty and friendly 24/7 customer service ensure you'll enjoy its use for years to come!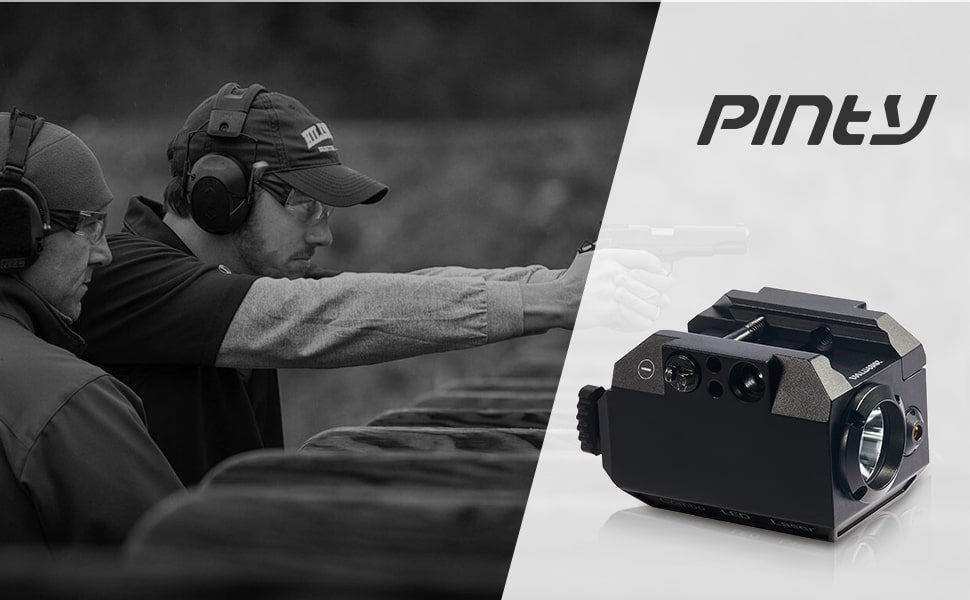 Wide Application

This compact green laser and LED light combo fits nearly all handguns and long guns with a standard Picatinny rail. Pistols require a minimum rail size of 1.1″ (27 mm).




Precision Green LaserThis tactical Class IIIA green laser operates around a 532 nm wavelength with a peak power of 5mW. Enjoy additional precision with the built-in windage and elevation adjustments.





Ultralow Profile

This firearm accessory boasts a minimal profile thanks to improving technology that lets us fit this 5mW green laser and 225 lm LED light into such a compact frame, easily drawn from your holster without a snag.
Specifications:
Laser Wavelength: 532 nm
Max. Laser Output: 5mW
Max. Laser Use: 8+ hr.
Laser Spot Dia. @ 30m: 30 mm
Max. LED Output: 3W and 225 lm
Max. LED Use: 2+ hr.
Working Modes: Laser, Light, Laser+Light
Max. Laser+LED Use: 1.7+ hr.
Rail Type: MIL-STD-1913 Picatinny Rail
Battery: 3V CR123A
Device Operating Range: 14-122°F
Product Dimensions: 2.5 x 1.7 x 1.6 in. (63x44x40 mm)
Weight: 4.7 oz. (133 g)
Package Includes:
1 x Laser Flashlight
1 x Hex Wrench
1 x Double-Slot Screw
1 x User Instruction